At 97, Wang Fushi maintains a keen interest in new things and novel ideas. He checks emails, surfs the Web, reads and watches TV news every day.
The cofounder of China International Publishing Group and founder of China Encyclopedia Press also travels in his wheelchair "to spot changes" in the capital. His latest excursions included the Water Cube and the Bird's Nest.
"I'm too old to travel afar. But I have always kept an eye on changes in today's world, especially in my motherland," says Wang, who played a special role in bringing forth dramatic changes in China half a century ago.
In April 1937, Wang acted as a key translator and publisher of Red Star Over China, a book by American journalists Helen and Edgar Snow that help spread the truth about Chinese leader Mao Zedong and the Red Army.
Wang Fushi was the translator, editor and publisher of the first Chinese edition of Edgar Snow's Red Star Over China printed in 1937. Yang Shizhong
Recently, he donated a collection of different Chinese editions of Red Star Over China to Marshal Zhang's Mansion Museum in Shenyang, Liaoning province.
Zhang Xueliang (1901-2001), often known as the Young Marshal, was the son of a Northeast China warlord and played a vital role in persuading Kuomintang leader Chiang Kai-shek to join hands with the Chinese Communist Party to fight the Japanese invaders in the 1930s.
Both Wang and his father had a close relationship with the legendary Young Marshal. Wang's father Wang Zhuoran had served both as deputy chancellor of Zhang's Tungpei University and as a teacher of Zhang's children.
It was Zhang who helped Edgar Snow conduct a four-month-long interview in Northwest China in 1936 for the world-renowned book Red Star Over China.
"It is by luck that I met the Snows and got involved in what Helen Snow called a 'real American-Chinese cooperation' that resulted in a decades-long friendship," recalls Wang.
Wang was active in anti-Japanese aggression movements in early 1936, when he met the Snows, who were "sympathetic to Chinese society and offered secret support to revolutionaries and progressive students".
Helen Snow, who divorced with Edgar Snow in 1949, wrote in her book My China Years: "Our house was full of student refugees, as well as Tungpei (Northeast China) exiles from Manchuria.
"One of these was Fullsea (Fushi) Wang... he used to sit shyly in a corner, saying nothing but intently observing the mnage like a sociologist."
In 1936, Edgar Snow set out for Xi'an, Shaanxi province, on a dangerous but successful quest to reach Communist-controlled areas. That summer, he had the rare opportunity of interviewing the Communist leaders in Bao'an (now Zhidan county), in northern Shaanxi.
When he returned to Beijing in October, Snow was eager to bring his account to a large audience.
Along with fellow student Li Fang and Edgar Snow's secretary Guo Da, Wang did much of the translating into Chinese and also served as editor and publisher.
To copy the roadmap of the Red Army's Long March, the team put the original map on a window, traced the details on a new piece of paper and then printed it in black and red.
"It was dangerous to do the book project in areas controlled by the Kuomintang when Japan was ready to invade all of China. But we did it," Wang recalls.
"The workers in the printing house knew about the nature of the book, but they supported us unconditionally."
To avoid sensitive words and terms, such as Communism and Red Areas, Wang and his team chose the title Foreign Journalists' Impressions of Northwest China.
And to conceal the location of the publication and the printing house in Beijing, Wang listed a fake company name: Shanghai Dingchou Compilation and Translation Press.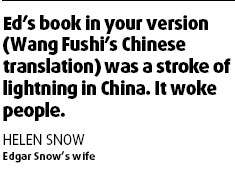 Through his father's Zhongnanhai-based Oriental Express newspaper press, a book of some 300 pages, complete with first-hand accounts, hand-drawn maps and photos, was secretly printed in March 1937, after only two months of strenuous, cooperative work between the Snows and Chinese students.
Since the underground publication could not be displayed in bookstores, Wang decided to distribute it with the help of newspaper vendors who ran their small newsstands.
"Imagine a scene in a war movie. People were really careful when they went to buy copies. The vendors carefully examined them to determine whether or not they were customers or plainclothes cops," Wang recalls.
The book's first print was 5,000 copies. But in the following years, many publishers secretly reprinted the book, which was banned by the Kuomintang government.
The book, published six months earlier than its English version by London-based Golanez, is believed to be the earliest Chinese version of Red Star Over China.
Encouraged by the successful publication, Wang volunteered to be an interpreter for Helen Snow's trip to Yan'an, northern Shaanxi, in April 1937.
Wang presented Mao a dozen copies of Foreign Journalists' Impressions of Northwest China in a willow branch basket.
"It was the first time Mao saw interviews and photos by Edgar Snow in the form of a book," Wang says.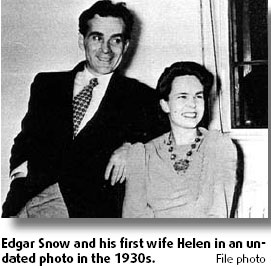 In Feb 1938, another Chinese translation was produced in Shanghai and remained the standard Chinese version of Red Star for decades until it was translated again in 1949 and 1979.
"That's why not so many people know about our version. But I am still proud of it," Wang says.
Wang has gone through many ups and downs, but he is optimistic and excited about China's rapid growth over the past few decades.
If Edgar Snow were alive today, he would marvel at the unprecedented social changes, Wang believes.
"I have lived long enough to see the liberation of the Chinese people, the founding of the New China and the opening up and reform," Wang says.
"The recent staging of the Olympic Games and launch of the Shenzhou VII Spacecraft give me more confidence in the future of my country," he adds, smiling.
(China Daily 10/21/2008 page20)