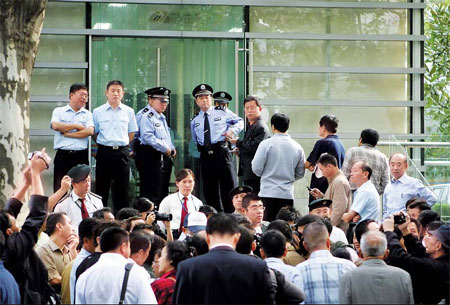 People line up to be allowed to sit in at Yang Jia's second trial outside the Shanghai High Court yesterday morning. Gao Erqiang
SHANGHAI: The city's high court rejected a request to give Yang Jia, the unemployed Beijing man who killed six Shanghai policemen and injured four others on July 1, another forensic psychiatric assessment at his second trial yesterday.
Presiding judge Xu Wei announced at the hearing the request made by Yang's newly appointed attorney Zhai Jian was not justified after hearing testimony from Guan Wei, one of the three experts who attended the first psychiatric assessment.
Guan told the court examiners found Yang swung between extremes during the two-hour interview on July 6. "But he doesn't have a mental disorder and is capable of assuming criminal responsibility," he said.
Clad in a blue shirt and black trousers, Yang betrayed no facial expression when he agreed he did not have a mental problem.
"I think those cops are mentally unstable," he said.
The 28-year-old came to Shanghai for vacation in October 2007. On Oct 5, a policeman detained him for riding an unlicensed bicycle.
He told the court he had been insulted during the initial questioning and then beaten after brought back to the station.
"I had bruises on my arms and back," he said. But Yang denied the policemen had injured his genitals, as some rumors had alleged.
The court listened to a 34-minute audiotape of Yang's initial interrogation, on which no insults could be heard. Expert assessment determined the tape had not been edited.
However, no video was shown of his interrogation at the police station.
After the incident, Yang repeatedly wrote and called in complaints demanding compensation. Several staffers from the station testified they tried but failed to resolve the complaints.
On June 26, Yang returned to Shanghai and purchased teargas, gasoline, a facemask, a knife and a hammer.
Yang told the court he returned again seeking a resolution to his complaint and bought the items to clear his way to the station.
On July 1, Yang broke into Shanghai Zhabei district police station, slashing six to death.
Videos were shown of Yang setting the station's gate on fire and stabbing four people on the first floor.
On Sept 1, Yang was sentenced to death by Shanghai No 2 intermediate people's court and appealed.
Yang said he was not at all regretful for the murders, although he could not remember most of what happened on July 1. "It all started from the unpleasant encounter at the station," he said.
He said those victims were not innocent, although they were not the officers he claimed insulted and beat him.
"But I did not conduct intentional homicide," he said
"And I had requested some witnesses attend the first trial but was rejected. It was not fair."
His attorney Zhai told the court that Yang was mentally ill.
"He does not have a job or a friend," Zhai said.
"There is no proof that Yang was not beaten at the station. But even if that happened, killing six in revenge is not something a mentally sound person would do."
The renowned defense lawyer said he had never seen a defendant as relaxed as Yang about receiving a death sentence.
"He even told me he feels happier in jail and is not afraid of death," Zhai said.
The hearing of Yang's appeal lasted the entire day, concluding at about 6:30 pm without reaching a final verdict.
(China Daily 10/14/2008 page3)