Chess for success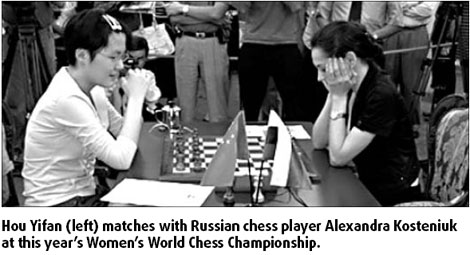 When Russian chess player Alexandra Kosteniuk won the Women's World Chess Championship in September, she was full of praise for her young opponent, 14-year-old Hou Yifan from China. "She is both a devilish tactician and a fierce fighter," Kosteniuk, 24, says of Hou. "She definitely has a great future."
As the runner-up in the prestigious tournament, Hou became the youngest woman to win the Grandmaster title in the history of chess. Now, at the ongoing first World Mind Game Sports in Beijing, Hou has already won a bronze medal at women's chess event as a member of Chinese team.
Hou may be young, but she has been playing chess a long time. A decade ago, the young player, who hails from the city of Xinghua in Jiangsu province, first became fascinated by the game.

Today's Top News
Editor's picks
Most Viewed