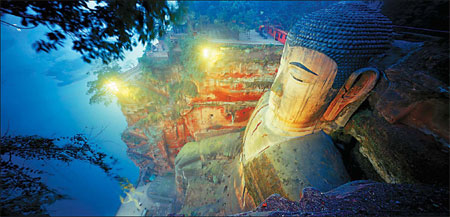 The picture Giant Buddha In The Rain marks the starting point of Zhou Jiansheng's journey to see world cultural heritage sites through his lens. Zhou Jiansheng
Photographer Zhou Jiansheng will never forget the day he found his mission in life.
It was a rainy day back in 2001 when Zhou, then 51, and his family were visiting the Giant Buddha in Leshan, Sichuan province.
The colossal 71-m seated Buddha statue built in the Tang Dynasty (AD618-907), believed to be the largest stone sculpture of Buddha in the country, is located on a cliff at the meeting point of the Dadu and Minjiang rivers. The statue is so big that 100 people can stand on either of its feet.
Zhou was awestruck. To get a better view, he went over to another stone Buddha nearby which was being repaired and was surrounded by a 10m-high scaffold. Despite the obvious danger, he climbed the scaffold with his tripod and camera in hand, firmly planted both feet on a plank, and steadily clicked the shutter.
To his amazement, he got the picture, Giant Buddha In The Rain, published in an American magazine and it aroused widespread interest.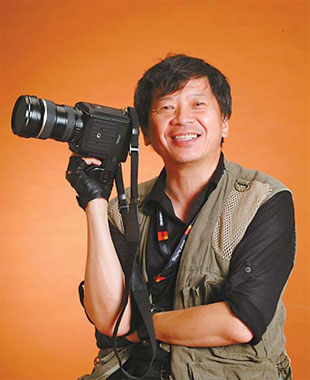 Zhou Jiansheng believes life should be measured by the lifestyle you choose. Photo courtesy of Zhou Jiansheng
"It was a great enlightenment to me," Zhou said. "I know it was a lack of knowledge of Chinese culture that had caused the unexpected reaction.
"Suddenly, I realized that I could do something with my lens to get foreigners to know China's profound civilization."
Zhou resolved then and there to complete a unique photographic tour of China and show it to the world.
Fact is, he shouldn't even be alive today.
He was born with congenital heart disease and was told early in his life that he wouldn't even make it to 30.
"I had surgery and it gave me a second life - it encouraged me to do something meaningful, as a repayment to those who had helped me and loved me."
He moved to Japan in 1988 and spent 20 years there, studying and developing his photography, but never lost his passion for China. Ever since the Buddha photo was published, he has been traveling the length and breadth of his homeland, capturing its rich cultural heritage.
He has left his footprints at Potala Palace in Tibet autonomous region, Mogao Grottoes at Dunhuang, Gansu province, the Forbidden City in Beijing and the Longmen Caves in Henan province. He has so far snapped all 37 World Heritage sites in China for his new photography album, due out early this month.
Actually, Zhou first conceived the idea of photographing the famous heritage sites in 1988, while studying in Japan. One day in central Tokyo, he happened to see a huge picture on the wall. It was of the Inca ruins at Machu Picchu in Peru. Zhou thought it was stunning and later discovered the picture was part of a promotion for UNESCO's World Heritage sites.
He immediately set off around the world capturing some of the listed sites but it wasn't until 1994 that he launched his ambitious plan to become China's first photographer to capture every one of the country's World Heritage sites.
"The heritage sites record the brilliant history of humanity and show the footprints of our ancestors, those who explored and created human civilization. They belong to all of humanity," Zhou said.
He faced two major hurdles - time and money.
"My photographic journey was sometimes rushed," he says. Unlike many Western photographers who could spend weeks at one site, the self-funded Zhou had to cram his travels into a fraction of the time.
His adventures have not been without incident, though.
He went to Mount Huangshan, Anhui province twice but his photo mission was thwarted by heavy fog, so last year, when Zhou heard there was light snow in the area, he rushed over and took dozens of pictures.
While he was coming back down, however, he was caught in a heavy storm and was hit by lightning, which raced up from the tripod in his hand. Although he escaped without injury, he appreciates the risk he took that day: "The experience was also a gift. I saw the most spectacular view at Huangshan in the rainstorm. Nothing ventured, nothing gained."
Zhou has also fallen into a canal while taking photos in Venice, Italy; been arrested by a military officer and ordered to delete all his photos after being mistaken for a spy while shooting a nuclear test site in Pakistan; been struck down by a bad fever in Mali; and had his valuable gear stolen in Sweden.
Zhou is philosophical about all of these episodes. He says life should be measured by the lifestyle you choose, rather than just the amount of time you spend here.
In his 20-year photography career, this tireless man has been to 77 countries and captured 330 World Heritage sites in all. He reckons the distance he has traveled is equal to 30 times the circumference of the globe.
When Zhou began photographing them, there were only 420 World Heritage sites on the UNESCO list. By last year, the figure had risen to 851.
This year he gained further recognition when he was chosen to stage a solo photographic exhibition at the athletes' Olympic Village during the Beijing Games.
Two months ago, to complete his preparations, he flew to 14 more European countries, at a cost of over 140,000 yuan ($20,500), to boost his stock of Heritage site photos.
"There will be more World Heritage sites on the UNESCO list as time goes by. My life as a photographer won't come to the end," he said.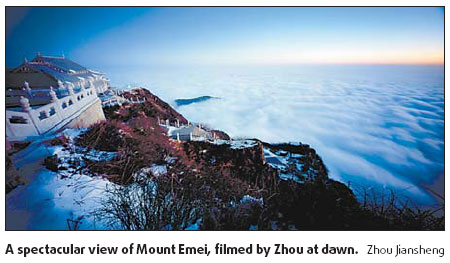 (China Daily 10/04/2008 page7)