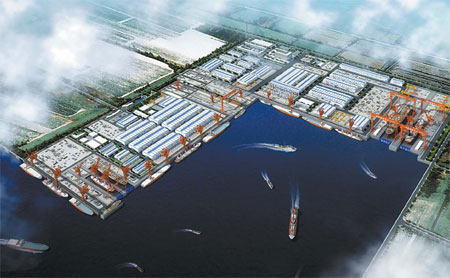 Design of the Tianjin Harbor Industrial Park shipbuilding facility now under construction
Tianjin Harbor Industrial Park has been in a state of constant change and development since it opened in June 2003.
In that time, the park has secured 36 projects with a total contractual investment of more than 130 billion yuan. More than 10 billion yuan has been pumped into the park infrastructure, providing a solid foundation for its development.
The harbor park was built on land reclaimed from the sea. It is a national petrochemical base planned by the National Development and Reform Commission and one of the key development areas of Tianjin and the Tianjin Binhai New Area.
The 80 sq km offshore construction area consists of three phases, according to the park's master plan.
Its development target is to become a significant national chemical center in north China, a base for shipbuilding and maintenance, equipment manufacturing, port logistics, R&D transformation, and an industrial tourism destination.
Just 38 km from the Tianjin Binhai International Airport - the largest air freight center in China, the park has a superior transport network.
As one of the five largest areas at Tianjin Port, the harbor park has 30,000 deadweight ton (DWT) channels, two liquid chemical berths with handling capacity of 10,000 DWTs and above, and five berths for the general wharf, each designed with an annual throughput of 10 million tons.
The park's main road network connects with the neighboring expressways and railways.
Its convenient location and superior environment have brought many companies to invest in the park.
At present, 10 Fortune 500 enterprises have invested in the park, including five projects each with investment exceeding 10 billion yuan.
Of the first two batches of Tianjin's 40 key projects, eight are in the harbor park, accounting for 20 percent of the total.
This year, the park plans to realize 23 billion yuan in actual investment.
Local authorities have introduced strict measures for environmental protection to try to build the harbor park into an eco-friendly development zone.
According to its development plan and long-term schedule, the park's contractual investment is projected to reach 140 billion yuan this year.
That figure is expected to rise to 500 billion yuan in 2020, with total industrial output expected to reach 800 billion yuan by then.
The harbor park is on the way to becoming a first-class center for chemicals, shipbuilding and repair, and machinery manufacture.
(China Daily 09/25/2008 page14)