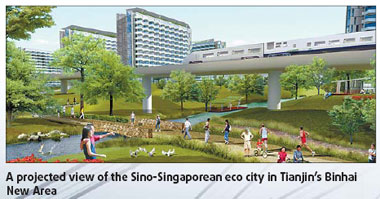 Salinity, sparse vegetation, a fragile ecology and water shortages usually indicate environmental degradation. However, these conditions are crucial to the eco city project being jointly developed by China and Singapore.
The eco city is located in Tianjin's Binhai New Area. It will cover a total of 30 sq km - 20 sq km in Hangu district and 10 sq km in Tanggu district. It is 15 km from the central part of the Binhai New Area, 45 km from downtown Tianjin, and 150 km from Beijing.
Premier Wen Jiabao and Singaporean Prime Minister Goh Chok Tong proposed the eco city be built in north China in April 2007, in an area that is short of water and does not occupy arable land. In November 2007, the two countries signed a cooperation framework agreement on the eco city.
The initial work plan for the eco city was passed during the third meeting of the China and Singapore Joint Working Committee on July 1 this year. The two countries signed an agreement to set up joint companies, signaling development and construction of the eco city will begin soon.
Energy, transport, water, forestation and detailed site planning is under way. Construction of the highway system, pipeline network and telecommunication facilities has begun. The Investment Service Center is complete and the site preparation area is expected to be ready by 2011.
China and Singapore Joint Investment Co has been established by the China and Singapore Ecological City Investment and Development Corp Ltd and Keppel Group.
The venture has registered capital of 4 billion yuan, with China and Singapore accounting for 50 percent each. Four companies in energy, construction, municipal administration and environment protection have also been set up by Chinese investment firms and Singaporean outsourcing ventures.
Master plan
Eco city will occupy about 30 sq km, accommodating a population of 350,000. It will take approximately 10 to 15 years for the city to be completed.
Cui Guangzhi, deputy director of eco city's administrative committee, said plans for the starting area should be based on the experience and technology of Singapore's Garden City construction in the areas of environment protection, transport, landscape engineering and public health.
The starting area will be south of eco city, occupying 3 sq km, with a residential area of about 2.8 million sq m and a population of about 80,000.
Eco city will include five commercial service centers - the main center, a secondary center, comprehensive area center, residential community center and the primary community center.
Eco city will use alternative energy and energy-saving technology. Clean energy and renewable energy resources - such as wind power, solar energy, underground heat pump and air source heat pump - will reduce carbon emissions in the city. All the buildings in the eco city will have to conform to green architectural design standards.
Observers have hailed the eco city project as the highlight of cooperation between China and Singapore, showing their determination to tackle global warming, strengthen environment protection and save energy and resources. The two countries have also established a Sino-Singaporean Coordination Committee at vice-premier level and Sino-Singaporean Joint Working Committee at ministerial level to promote the project.
(China Daily 09/25/2008 page13)