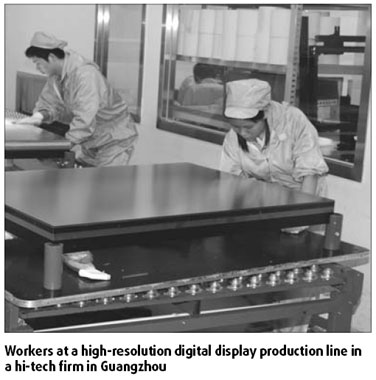 Cities in the productive Pearl River Delta area of south China have introduced incentive policies to support the development of the cartoon and animation industry, a sunrise sector with great market potential.
Analysts said Guangzhou might outperform its neighboring competitors given its generous fiscal input to the sector and stronger industrial base.
Since the central government issued a document in May 2006 to promote the development of the cartoon and animation industry, the governments of Guangzhou, Shenzhen, Dongguan and Foshan worked out their own strategies to fuel the business, offering land, funding, talent and intellectual property rights protection.
The First International Cartoon Festival will be staged in Guangzhou from September 28 to October 5, while a 175-hectare cartoon industrial park began construction in September. Located in Conghua, a city affiliated to Guangzhou, the park will be built into the country's largest of its kind.
"The government will play an essential role to stimulate the development of comics and animation industry," said Liang Zhengxiang, deputy director of Guangzhou's publication and broadcasting bureau.
According to Yang Xiaoyun, deputy general manager of Conghua comics industrial park, the industry is taking shape in Guangzhou.
There are at least 100 cartoon and animation companies in Guangzhou and more than 1,000 workshops employing around 15,000 people.
(China Daily 09/27/2008 page11)