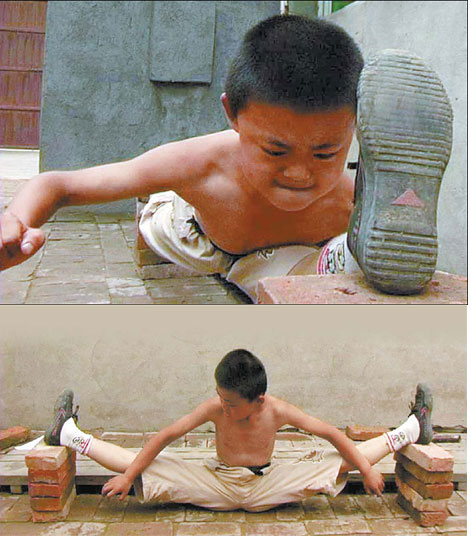 Nine-year-old Yuan Peng practices splits.
The mention of Shaolin Temple conjures up images of a quiet and peaceful monastery on a remote mountain in China, a peaceful retreat, a place to worship, a place to reflect, and dozens of monks practicing kungfu.
Alexander Sebastien Lee, a Korean-American, was one of those with such an idea, thanks to the Jackie Chan and Jet Li movies of his childhood. But when he actually went to visit Shaolin Temple and studied kungfu there in 2003, he found a very different Shaolin Temple, the birthplace of Chinese kungfu.
After graduating from the USC School of Cinema-Television, Lee saw a documentary about the Shaolin monks and their amazing physical feats. The monks would head butt sandbags, kick trees, and break spears by pressing down on the pointed end with their throats. Born in Los Angeles, Lee studied the Korean martial art Taekwondo from the age of 7, which prepared him for the basics of kungfu.
"I wanted to see if I could withstand the brutal training, and was extremely curious about the legendary birthplace of martial arts," Lee says. However, that trip which was supposed to last three months, gave birth to another idea - a documentary about the modern day Shaolin Temple, The Real Shaolin.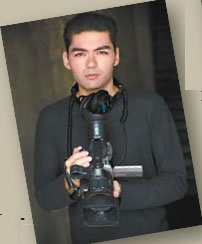 A trip to Shaolin Temple inspired Alexander Sebastien Lee to make a documentary about life at the temple today. Photos courtesy of Alexander Sebastien Lee
Instead of explaining the history of the Shaolin Temple or showing amazing qigong demonstrations, first-time director Lee wanted to understand the daily practices of the kungfu students and the reasons for Westerners to travel so far to learn a Chinese martial art.
Kungfu may be the stuff of Hollywood lore, but the roots of the ancient martial arts run deep in the temple's hallowed ground.
When he arrived in Shaolin Temple, it was very different from what he had expected. Shaolin is no longer a quiet monastery on the top of a serene mountain filled with monks practicing kungfu. It is now a tourist attraction, and the epicenter of a kungfu city with more than 100 kungfu schools and 40,000 students.
The director sets the documentary in Dengfeng (dubbed "Kungfu City"), Henan province, where the Shaolin Temple is located, and follows two Chinese and two Westerners who journey to the Shaolin Temple. Over months of difficult lessons and life-changing experiences, the four students reveal just how much hard work goes into those dazzling moves.
When asked how he found the four characters, he simply says "yuan fen" (follow destiny). But each of the four characters follows different kungfu dreams at Shaolin Temple: 9-year-old Chinese boy Yuan Peng is abandoned at the Shaolin Temple and is adopted by a Shaolin monk. He dreams of becoming a monk with courage and righteousness, like Jet Li in the film The Shaolin Temple. Orion, a 19-year-old American, believes that the martial arts are a way of life, a philosophy that - he says - is not understood by most Americans. He journeys to Shaolin inspired by Bruce Lee's incredible enthusiasm for the martial arts. Zhu is 19 years old and comes from a Chinese farming family. He is a student at the largest martial arts school in the world named Tagou. He trains in the modern kungfu sport called Sanda, which is a brutal competitive sport resembling kickboxing. Eric is 29 years old and journeys from France determined to be the first non-Chinese Shaolin monk. Under the famous Shaolin grandmaster Shi Deyang, Eric is accepted on the condition that he remains exclusively at Shi's school for a minimum of three years.
"The idea behind The Real Shaolin is that the modern day Shaolin Temple differs greatly from what we imagine in the movies," Lee explains.
Many people watch martial arts movies and dream of becoming a grand kungfu master. But the reality, as portrayed in The Real Shaolin, which debuted at the Toronto International Film Festival last week, has little to do with flying fists and more with hard work and training.
There is a Shaolin saying, "In order to learn the martial arts, one must eat bitter". It resembles the American expression "No pain, no gain". Even though one can study Shaolin kungfu in America, it cannot measure up to real Shaolin training, which goes for eight hours per day, six days per week, for years on end.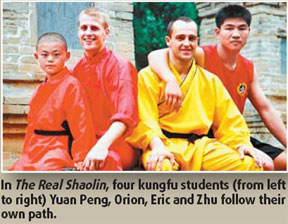 The movie The Shaolin Temple shows Jet Li carrying pails of water up a mountain. Lee, after spending over a year with kungfu teachers and students at Shaolin Temple, thinks Jet Li's bitter training has been "romanticized".
"But when you train in Shaolin and attempt to do full splits, there is nothing romantic about excruciating groin pain," Lee says.
With all the pain and hardship, what purpose does kungfu serve anyway? Kungfu can be used for self-defense, to boost one's health, and for spiritual fulfillment.
Lee got his answer after experiencing the real Shaolin Temple. It helps to eliminate fear, he says. "If you are confident in yourself and not afraid of others, then you can put aside your ego and open your heart to others. That is one of the precepts in Buddhism, and a method to establish a universal brotherhood among men," he says.
However, the modern day Shaolin Temple at first glance is a tourism site and many Western visitors wonder, "Where are the old masters who practice endlessly in search of enlightenment, not wealth?"
Lee says he hopes the film can inspire viewers to explore the real Shaolin themselves. "As I spent more time living at Shaolin, I understood that the spirit of Shaolin lives on," he says.
(China Daily 09/24/2008 page18)