Shanxi summit looks at coal's future
Industrial experts, entrepreneurs and government officials participated in a high summit on coal, energy and environment during the second China (Taiyuan) International Coal & Energy New Industry Expo that began yesterday in Taiyuan and will continue until September 19.
Two special forums on capitalization of the coal industry, innovation and development of clean energies will be held in the coming days.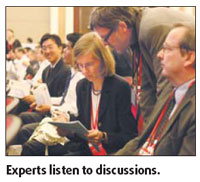 Yesterday's summit forum, titled Coal, Energy, Environment and Harmonious Development in 21st Century, was hosted by Li Xiaopeng, vice-governor of Shanxi province, and attended by leading officials including Cheng Siwei, former deputy chairman of the Standing Committee of the National People's Congress.

Today's Top News
Editor's picks
Most Viewed