Maasai goatherd Joseph Nkolia points dismissively at two shallow pools, the only water in a parched stream west of the Kenyan town of Narok.
"It rained yesterday and look at it," he says.
"Two years ago it used to flow strongly through here. Now I often have to get a lorry to bring water from Narok for us and our animals, and it costs a lot." His flock wanders past without bothering to drink the scant brown water.
The stream is a tributary of the Ewaso Ngiro, one of 12 rivers fed from the Mau Complex, Kenya's biggest forest and a vital water catchment in the west of the country.
Destruction of the woodland by rampant illegal settlement, logging and charcoal burning threatens severe damage to Kenya's economy with an impact on energy, tourism, agriculture and water supply to cities and industry.
A familiar Kenyan saga of corruption, illegal landgrabs and the use of state resources to buy votes has destroyed a quarter of the 400,000 hectare forest in the last decade, with an impact that may be felt as far away as Egypt.
The Mau was broken into 22 blocks by human settlement over the last century but the real destruction began in 1997, when large plots were given away by the government of former President Daniel arap Moi to win votes in an election.
"My life will be completely ruined if I cannot get water for us and our livestock, our land will turn into a desert. We will all die," said another Maasai, Moses Mundati, standing on sunbaked ground where the Ewaso Ngiro no longer extends.
As he spoke, people brought yellow containers to gather water from the narrowed river beside him.
But if the saga is familiar, the recent reaction is not.
Kenya's new coalition government set up a task force in July to reverse the destruction of the forest, which the United Nations Environment Program says could cost the tourism, tea and energy sectors alone at least $300 million.
"Such an extensive and ongoing destruction of a key natural asset for the country is nothing less than a national emergency," said Prime Minister Raila Odinga.
Hydropower delayed
So dramatic is the problem, the inauguration of the 60-megawatt Sondu Miriu hydro-electric project in western Kenya has been delayed because of inadequate water flow.
The $260 million Japanese-funded scheme was designed to depend on water from the Mau and has only a small storage reservoir.
As high oil prices force Kenya to look for alternative energy, experts say water from the Mau, if it is preserved, could generate nearly 60 percent of current national capacity.
Lakes Nakuru, center of a popular game park, and Natron in Tanzania, breeding ground for the Rift Valley's famous flamingos, are both receding.
Agencies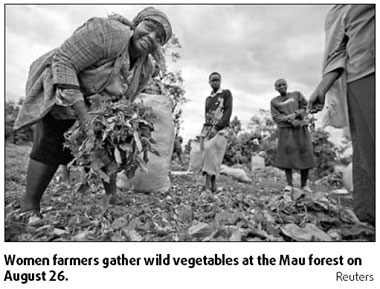 (China Daily 09/04/2008 page11)