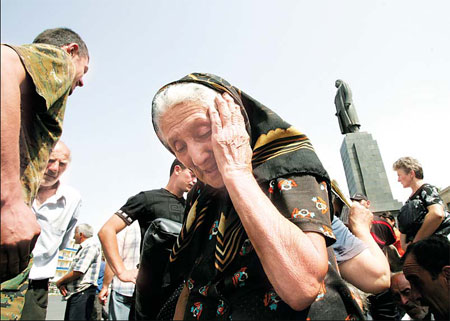 Georgian refugees from surrounding villages are seen at the central square in the town of Gori, northwest of the capital Tbilisi, Georgia, yesterday. AP
Defying the United States and Europe, Russian President Dmitry Medvedev announced yesterday he has signed a decree recognizing the independence of the breakaway Georgian territories of South Ossetia and Abkhazia.
Flanked by a Russian flag and a presidential banner, a somber Medvedev said Tbilisi's desire to seize back Abkhazia and South Ossetia by force had killed all hopes for their peaceful co-existence in one state with Georgia.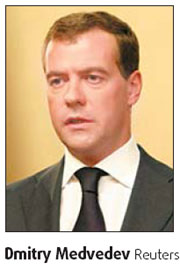 "(Georgian President Mikheil) Saakashvili chose genocide to solve his political tasks," Medvedev declared in a statement broadcast from his summer residence in the resort of Sochi.
"...The peoples of South Ossetia and Abkhazia have more than once spoken in referenda supporting the independence of their republics. We understand that after what had happened... they have the right to decide their fate themselves."
Medvedev's move came as Russian tanks and troops remained in parts of Georgia after a brief war over South Ossetia earlier this month - the first time Moscow has sent troops into another country since the end of the Soviet Union in 1991.
Criticism from West
The United States, NATO and European powers swiftly attacked Moscow's decision.
US Secretary of State Condoleezza Rice described it as "regrettable" while German Chancellor Angela Merkel termed it "absolutely unacceptable". Britain "categorically rejected" the decision and France expressed dismay.
Swedish Foreign Minister Carl Bildt said the Russian government leadership had "chosen a policy of confrontation, not only with the rest of Europe, but also with the international community in general."
But in reality the West's ability to punish Russia is limited.
United Nations sanctions against Russia are out of the question as Russia has a veto in the Security Council. Major powers are also wary of any action that might make Russia withdraw its support against Iran over its nuclear program and transit support for NATO forces in Afghanistan.
Retaliation could involve Russian membership of the big international clubs: excluding Moscow from the Group of Eight (G8) top industrial democracies or blocking its bid to join the World Trade Organization (WTO).
Prospect of new Cold War
Speaking in an interview with the Russia Today television channel, Medvedev said he was not frightened by the prospect of a new Cold War.
"Nothing scares us, including the prospect of a Cold War, but we don't want it," Medvedev said. "In this situation, everything depends on the position of our partners."
The Kremlin instructed the Foreign Ministry to establish diplomatic ties with the two regions and ordered the Defense Ministry to guarantee peace there.
Jubilant residents in the Abkhaz capital Sukhumi fired shots into the air, uncorked champagne bottles and wept after the news from Moscow.
"We feel happy. We all have tears in our eyes. We feel pride for our people," said Aida Gabaz, a 38-year-old lawyer.
Hundreds of people gathered in the main square of the South Ossetian capital Tskhinvali, hugging each other and waving the separatist flag. There was a deafening roar of celebratory gunfire from Kalashnikov guns and antique hunting rifles.
Georgia's Deputy Foreign Minister Giga Bokeria described Moscow's recognition of South Ossetia and Abkhazia as an "unconcealed annexation" of Georgian territory.
Envoy talks of 'eve of WWI'
Before Medvedev's announcement, Russia's envoy to NATO, Dmitry Rogozin, compared the position to the eve of World War I, saying a new freeze in relations was inevitable.
"The current atmosphere reminds me of the situation in Europe in 1914 ... when, because of one terrorist, leading world powers clashed," Rogozin told the RBK Daily business newspaper.
He announced at a press conference later that Russia planned to halt visits by senior NATO officials and joint military exercises with the alliance. "If they (NATO) start smashing the dinnerware, then we can add more to the list," Rogozin said.
Russian Foreign Minister Sergei Lavrov later told reporters he believed common sense would prevail in the international community over the Georgian crisis.
Agencies
(China Daily 08/27/2008 page12)