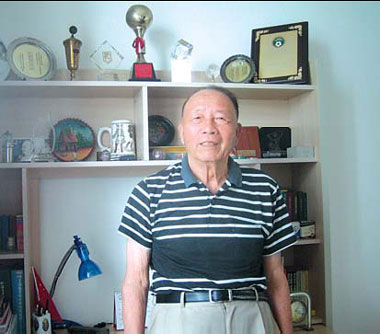 Fang Renqiu, 79, was among the first Chinese athletes to participate in the 1952 Olympic Games in Helsinki, Finland, after the founding of New China. Photos courtesy of Fang Renqiu
Today China is piling up Olympic gold medals, but a half century ago simply sending athletes to the Games was considered a victory - even if some of them didn't compete.
When Fang Renqiu and the Chinese delegation arrived in Helsinki, Finland on July 29, 1952, the soccer event was already half finished. Fang and his fellow players didn't play in a single official Olympic match, just a few pick-up games with Finnish national and club teams.
It was pretty much the same story for the Chinese basketball team, which also missed all official matches.
"We were more like a sightseeing group than a sports group," remembers Fang, now 79.
The only Chinese athlete who competed that year was swimmer Wu Chuanyu, who didn't win any medals.
At that time, just three years after the founding of the People's Republic of China (PRC), "just being there is a victory", Premier Zhou Enlai reportedly said.
In fact, the Chinese Olympic Committee had received an invitation to attend the Games from the International Olympic Committee only days before they went.
Taiwan authorities, backed by the United States, had been trying hard to block PRC's entry into the Olympic Games. Meanwhile, China and the United States were still fighting the Korean War.
While some people opposed sending a rushed delegation at such a late date, Premier Zhou decided that it was important to have the nation's red flag fluttering in Olympic stadiums.
China hastily assembled a delegation of just 40 athletes - including 15 soccer players, 10 basketball players and one swimmer, along with officials, doctors and interpreters.
Fang and the other athletes also took crash courses in diplomatic etiquette to prepare for the trip. "We were all very excited by the great honor of going the Olympics," Fang says.
The trip from Beijing to Helsinki was hard and long. Most athletes, like Fang, had never previously boarded a plane or traveled abroad.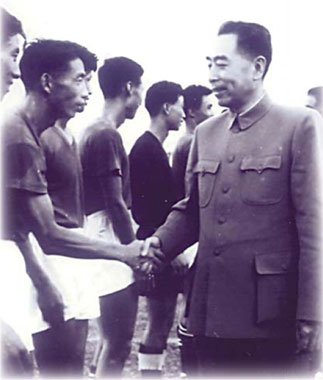 Premier Zhou Enlai shakes hands with Fang Renqiu while meeting the Chinese soccer team in the early 1950s.
Fang still remembers the cities in which the plane landed en route - Ulan Bator of Mongolia and Irkutsk, New Siberia, Moscow and Leningrad (now Saint Petersburg) of the Soviet Union - before it reached Helsinki.
Although Fang regretted not being able to compete in the Olympics, he was glad that the flag-raising ceremony at the Olympic Village still attracted hundreds of athletes and reporters from various countries. The atmosphere was very friendly.
On the way home, China's soccer team toured Poland and the Soviet Union and played matches there, while the basketball team went to Romania and the Soviet Union.
The soccer team lost all the matches during its tour. "We realized the huge gap between us and the rest of the world," Fang says.
To catch up, Fang and other soccer players and some swimmers were sent to Hungary in 1954 to train for one year and a half. "Hungary was the strongest team at that time, defeating England," Fang says.
"We trained very hard because we were told that 3,000 Chinese farmers had to work a whole year to support one of us. We could not let them down," he says, adding that no one smoked or drank alcohol, unlike some soccer players today.
Fang, a forward, was a star player in the 1950s, representing the national team in 130 international matches and scoring more than 100 goals.
He became the head coach of the national team in 1964 and took various other coaching positions abroad.
Fang has never regretted the decision he made in early 1952 when the central government enlisted him for the national team. He was about to graduate from a maritime college in Shanghai .
He had to make a tough choice between a career at sea or on the soccer field.
The salary at that time was 20 to 70 times higher in favor of a ship captain. It was a hard choice since Fang had relied on his relatives to pay his schooling. His parents had high expectations for him to support the family after graduation.
Fang decided to follow his passion and to play ball for the glory of the motherland.
He had loved soccer since he was as a child playing in the alleys in downtown Shanghai.
(China Daily 08/22/2008 page17)