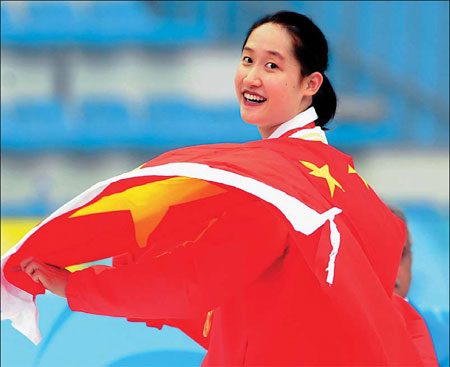 Liu Zige celebrates her 200m butterfly gold, which she won in world record time, at the Water Cube in Beijing yesterday. Wu Zhiyi
So what if Michael Phelps was not there yesterday. The Water Cube was still set on fire. And it was a blaze China will remember for a long time.
Liu Zige and Jiao Liuyang sent the spectators in a tizzy with China's first swimming gold (200m butterfly) at the 2008 Games and its first 1-2 finish in the pool since 1992.
The waves created by Liu and Jiao propelled Yang Wei in the gymnasium to give a dream performance to win China only its second title in men's all-around gymnastics.
These victories must have inspired Zhang Juanjuan to break the Republic of Korea's (ROK) 24-year dominance in women's individual archery and shooter Du Li to stage a comeback to win the women's 50m rifle three positions.
In the pool, Liu charged full throttle to shave a full second off the women's 200m butterfly world record, clocking 2 minutes and 04.18 seconds. Previous record holder, Jessicah Schipper of Australia, came third.
"I was so surprised," said Liu, and she was not the only Chinese with that feeling.
It was a day Japan will not forget in hurry either, for its swimmer Kosuke Kitajima became the first man to win the 100m and 200m breaststroke at two successive Olympics.
Kitajima won the 100m breaststroke on Monday in world-record time, and though many expected him to do the same in the 200m too, he had to settle for an Olympic record in 2:07.64. The world mark belongs to him anyway: 2:07.51 that he set in Tokyo in June.
Apart from Liu and Jiao, the other surprise in the pool came from the Australian women's team. They broke the three-Games winning streak of the US in the 4X200m freestyle relay in a world record time of 7:44.31.
Alain Bernard snatched a pool gold for France in the men's 100m freestyle in 47.21 seconds, just 0.11 second ahead of Eamon Sullivan of Australia.
At the National Indoor Stadium, Yang Wei wiped away eight years of frustration to win the men's all-around gymnastics title. He won the silver in Sydney 2000 but could not even mange a bronze in Athens four years later.
"We have been waiting for the all-around gold for eight years. It has really been hard," head coach Huang Yubin said.
Yang's win helped China maintain a 100 percent record in Beijing after winning the men's and women's gymnastics team titles.
In the archery field, Zhang Juanjuan beat all three ROK archers on her way to the gold. The two-time Olympian foiled defending champion and world No 1 Park Sung-hyun by a point, 110-109, in the final.
Italy's Chiara Cainero won a three-way sudden death shoot-out in pouring rain to take the gold in skeet shooting.
And Yang Xiuli claimed China's second gold in judo, beating Yalennis Castillo of Cuba in a marathon bout in the women's 78-kg final.
With neither judoka able to score from the other after the full 5 minutes of extra time, referees judged Yang the more attacking fighter and awarded her the title.
Tuvshinbayar Naidan of Mongolia won his nation's first ever gold medal, defeating Askhat Zhitkeyev of Kazakhstan in the men's judo 100kg class.
(China Daily 08/15/2008 page1)