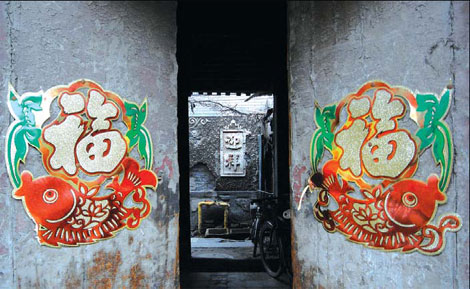 Despite its rapid development, Beijing still has hundreds of historic hutong - narrow residential alleys - mostly located close to the city center.
Some of these alleys are particularly famous, as old Beijingers have recognized them as "number one" in various ways.
The longest
This is the longest hutong of "old Beijing". Lying in Dongcheng district, the alley extends for some 3 km from East Tian'anmen Square Road in the west, to Chongwenmennei Avenue in the east.
The street has long been home to diplomatic missions in Beijing. After the Opium Wars in the 1840s, Britain, Russia, Germany and France established embassies along this road. In 1901, it was renamed Embassies Street. Its unique history has left the area with unique buildings exhibiting diverse architectural styles.
The shortest
The shortest hutong in Beijing lies at the east end of East Liulichang Street. Named Yichi Alley, the east-west passage is only slightly more than 10 m long.
Recently it has been expanded as part of Meizhuxie Street. (The shortest hutong is now technically nearby Guantong Alley.)
The broadest
Lingjing Alley, in Xidan shopping area, is 32 m wide - much wider than a six-lane expressway.
Its name comes from a celebrated temple, Hong'en Lingji Palace. The Ming Dynasty Emperor Zhu Ding ordered the construction of the temple to honor the spirits of his two brothers, who helped him win a war and recover from illness.
The narrowest
Qianshi Alley is the narrowest hutong in Beijing, with the tightest passage just 80-cm wide. People have to walk sideways when meeting here. Located along Zhubaoshi Street, it is called Qianshi ("money market") because there were once several money exchange shops here.
It is said people chose this location to exchange money because the street has a dead end. Thieves and con men couldn't escape if they ran the wrong way.
The most zigzagging
Most alleys in Beijing are straight. But if you walk into Jiudaowan ("nine turns") Alley, located near Beixin Bridge, you will likely soon become lost as the winding route has many unexpected turns.
China Daily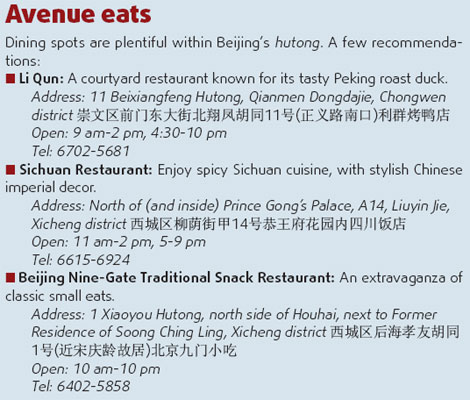 (China Daily 08/09/2008 page15)