Riding high on a budget

The whole world knows about Beijing halving its traffic flows and closing factories for the Olympics, but how about this for budget-minded sightseers.
Forget the $100-a-day guided tour of the city. Now you can ride in comfort and see Beijing for a fraction of the price.
While three new subway lines and 10 new bus routes were launched last Sunday, what's got bloggers most excited are the two new sightseeing lines that will chauffer you through Beijing's highlights for the princely sum of 3 yuan. That's about 40 cents!
The two new buses provide English and Chinese commentary as they cruise through Beijing's Olympic and historical sites.
With extra-large windows, super-sized soft seats and air-conditioning, the buses offer a comfortable trip past Beijing's best for a pauper's price.
Here is a list of the Line 1 and Line 2 stops provided by The Beijinger:
Line 1 (pictured below):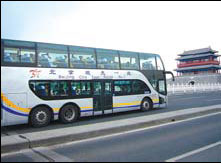 Yongding Men, Tiantan West Gate, Qianmen, Tian'anmen Square East, Shatan Lukou Nan, Jingshan Dongmen, Gulou, Yonghegong Beiguanting.
Line 2:
Hui Zhongli, Beichen Donglu, Olympic Green South Gate, The Olympic Village East, Bird's Nest, Beichen West Bridge, Yonghegong Bridge East, Beiguanting.
The buses run daily - Line 1 from Beijing South Railway Station and Line 2 from Huizhongli.
Giving guards the slip
If you're fed up with security guards checking your bag in the metro, one inventive young lady might have the answer.
Blogger Jonna Wibelius (http://sheinchina.blogspot.com) reckons that if you're stopped, ask to speak to the person responsible for the searches and tell him:
"My bag's full of my underwear. Are you sure you want to take a look?"
Naturally, this must be done in perfect Chinese or you'll just get strange looks. But if you do it right, any male guard will suddenly discover he doesn't need to check your bag after all.
"The younger the guy the better. He might even apologize!" Wibelius writes.
Loving the language
Apart from working as an attorney and constructing a graduate thesis, blogger Ms Schwalb (boulder2beijing.blogspot.com) also manages to find time in the day to study Chinese, usually about 6 to 8 hours a day.
The time she has spent has led her to the conclusion that Chinese is very difficult to learn.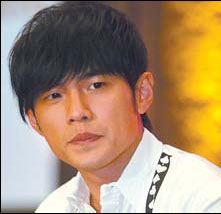 After shooting down blog titles like You Have Got to Be Kidding Me, Another Meaning For 'Shi!?! and Please Speak Slowly, I'm From America, Schwalb settled on Reasons I Love Studying Chinese. Why?
It's not only because she likes the challenge. "Chinese really is a fascinating language, steeped in history and culture and wonderful imagery," she says.
Schwalb has discovered another reason for learning the language ... Taiwanese pop star Jay Chou (pictured). Her language teacher recently told her that the day she understands Chou's singing, which is notoriously mumbled, is the day she'll have mastered Chinese.
Rising to the challenge, Schwalb has begun listening to Chou's music. She can't fully understand what he's singing about yet. But she's decided she shares China's affections for him.
(China Daily 07/25/2008 page19)