You've got to love beauty contests. If not for the swimsuit parades, then for the interview rounds that masquerade as Nobel Peace Prize acceptance speeches. Failing that, there is invariably cat fighting. On Saturday night the 36th Miss Hong Kong contest did not disappoint.
The winner, Edelweiss Cheung (pictured), is a 22-year-old university student known as the "Jewelry Princess" because her family has a gem store business and is loaded.
She is undeniably tall and pretty but has also earned herself a reputation in conservative circles for behaving badly.
Smoking, enjoying a drink and being passionate with her boyfriend in public are hardly crimes, you would have thought, but judges usually prefer a demure champion. Also, there were reports the winner was changed at the last moment.
Hong Kong's Hugh Hefner, TVB chief Sir Run Run Shaw, also known as "Uncle Six", was as usual center stage. The centenarian was dapper in a suit and scarf and I spotted him happily sandwiched between last year's winner Kayi Cheung and the sparkling Grace Wong. When I grow up I want to be like Sir Shaw.
Also in Hong Kong, on Sunday, was the 35th anniversary of Bruce Lee's premature departure from the movie screen of life. He is a hero to most but to sister-in-law Lin Yanni he was a sentimental person who would wake up in the middle of the night crying. Did we need to know that?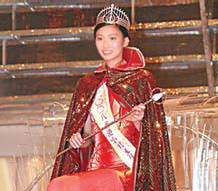 While the wedding of the week award goes to the Leung-Lau pairing of Tony and Carina, let's not forget that other celebrity couple: Terry Gou, the multibillionaire owner of Honhai Precision Industries and his bride-to-be, Delia Tseng.
The former dancer now knows bling really is a girl's best friend after being given a 10-carat diamond. She joins the ranks of the seriously rich on Saturday, when she says, "I do" (take half your money) at Taipei's Grand Hyatt Hotel. The newlyweds plan to honeymoon at a Czech Republic castle along with celebrity friends, including the singer Jolin Tsai.
Tsai, incidentally, has announced she will be involved with World Vision relief efforts for victims of the Wenchuan earthquake. While her actions are to be applauded it has to be asked what took her so long to climb on board the compassion train? The devastating tremor took place on May 12.
Finally, environmentalism has never been more fashionable. Starlet Mindy Yang has done a photoshoot wearing a wide-brimmed grass hat in a field of tea. She looks stupid but no one dares tell her as it appears green has become the new black. I am reminded of the Emperor's New Clothes by Hans Christian Anderson.
Hu Deman, legendary Beijing crosstalker and confidante to China's biggest celebrities, talks to Jules Quartly
(China Daily 07/23/2008 page18)