Menu with the most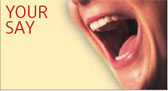 Lee (www.leeinchina.com) finds that Chinese restaurants have a way of coming up with some of the most creative names for their dishes.
Names like "Feast of One Hundred Happinesses" and "The Dog's Leftovers", are two of the more eccentric dishes Lee mentions in his blog You Mei You Yingwen Caidan.
Of course the names are interesting to read but they reveal little about what is actually in the dish.
In an effort to make the menus more foreigner-friendly, the government last month released a detailed list of suggested translations. The list offers hundreds of descriptive English names to help Beijing's Olympic guests better understand what it is they are ordering.
So instead of "Mayi Shangshu" which is literally "ants climbing up a tree", the list offers "Sauteed Vermicelli with Spicy Minced Pork". A link to the complete list can be found at www.leeinchina.com.
Things that make my day
Jonna Wibelius' (www.sheinchina.blogspot.com) favorite things about China are the Chinese treasures found in the most unlikely places.
Sometimes even the darkest of alleys can house some of the best discoveries, she writes in her blog titled Little things that make your day.
"You should never judge a warehouse because of its looks, because inside there might be an outstanding fruits/vegetable/meat/electronic/clothes market where you can shop until you drop," she writes.
Wibelius offers this tip after reluctantly stumbling into an uninviting building near her house only to discover it housed a produce market.
The service was friendly, the prices were cheap and the produce was fresh, she writes.
After scouring the rows of stalls she emerged with a prized discovery: fresh avocados for only 15 yuan ($2.2).
This was a particularly profound find for Wibelius because she has been seeking out the vegetable since arriving in China in 2006.
Finding foods that you miss is definitely something that can brighten your days in China, she writes.
Chinese for China
How did China earn its English name?
While several theories have been offered, the question still remains surrounded by controversy. The China Sessions blog (www.chinasessions.com) explores some of the better believed theories behind the title.
Some believe the name originated from the priceless pieces of porcelain which were exported from China beginning in AD 500. This seems unlikely, according to China Sessions, who say that records indicate that the country was called China long before "chinaware" began being exported.
According to China Sessions, the most convincing theory is that the word comes from the two Indian epics Ramayana and Mahabharata.
Contained in the epics is a description of a land similar to China that is referred to in Sanskrit as Cina. Since the epics were published around 750-500 BC, they are one of the earliest references to anything resembling the name "China".
(China Daily 07/18/2008 page19)