DONGGUAN, Guangdong:
Anti-graft authorities in this industrial city are using the mistresses of officials to find out about their corrupt practices.
"At least 80 percent of corrupt officials exposed in Dongguan had mistresses who gave us important information that we did not possess," Zhou Yuefeng, deputy director of the Dongguan anti-graft bureau, told China Daily yesterday.
However, he declined to give details of the cases.
China's public servants regulation, which took effect a year ago, stipulates that any official must be dismissed if found to have a mistress.
Besides having mistresses, Zhou said receiving bribes in the form of share dividends was also common among corrupt officials in Dongguan and the authorities are closely watching the situation.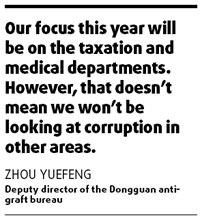 "Our focus this year will be on the taxation and medical departments." he said. "However, that doesn't mean we won't be looking at corruption in other areas."
Luo Dongsheng, former director of a town's fire brigade in Dongguan, was recently sentenced to five years' imprisonment for receiving a "share dividend" of 1.61 million yuan ($234,000) from a fire prevention equipment company.
Luo was not a shareholder nor was he involved in the operations of the company. The dividend was a reward for promoting its business.
In another case, 48 customs officers of Fenggang city were found to have received "monthly salaries" ranging from HK$2,000 to HK$5,000 each from 2001 to 2005 from a local smuggling gang.
Zhou said most of the occupational crimes in Dongguan were complicit ones, as new laws had made it much more difficult for individuals to act alone.
He said 32 out of the 38 corruption cases handled by the city's procuratorate last year, and in the first five months of this year, were complicit ones.
"A growing number of corrupt officials are trying to circumvent the law. We welcome tip-offs and we will protect and reward informers," Zhou said.
(China Daily 06/26/2008 page5)