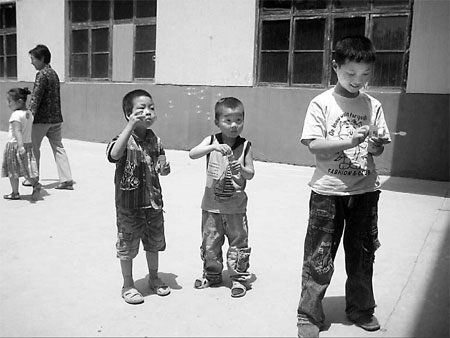 At Sanyuan Children's Village in Shaanxi province, traumatized children of imprisoned and executed parents get the chance to heal their emtional wounds.
Hei Dou was 3-and-a-half years old when his mother killed his father with a hammer. His mother later testified the heavy drinker had for years abused the toddler, his 5-year-old sister and herself. That night, Hei's father told his mother he had sold their daughter to pay off gambling debts, it was too much for her to bear.
Hei's mother is now serving a 23-year prison sentence.
After the incident, the villagers of Hei's hometown in rural Shanxi province held a meeting to decide what to do with the boy and his sister. They determined that whoever took guardianship of the children would receive 300 yuan ($43) per month.
The village head took Hei's sister home, while the little boy went to a mentally impaired man who often beat him with a stick.
When their imprisoned mother begged police to find Hei so he could visit her, they turned to Morning Tears, a non-governmental organization assisting children of imprisoned and executed parents. A team member found Hei, then age 5, scarcely clothed and herding sheep. He was covered with a patchwork of bruises that would take two hospital trips a month for a year to heal, child facilitator Kou Wei says.
The emotional wounds, though, have taken much longer.
Today, the 10-year-old lives with 46 other traumatized children and six caretakers at Sanyuan Children's Village in Shaanxi province. For his first six months at the center, he was terrified of strangers and refused to speak, Kou says.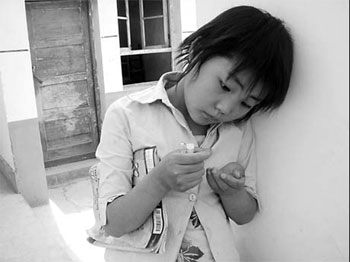 Children at Morning Tears' children villages must both grapple with their trauma and relearn how to socialize. Photos courtesy of Morning Tears
"Now, he smiles when he sees people who come to visit," she says. "He plays with other children, and, like most boys his age, sometimes he is a little bit naughty, or doesn't finish his homework on time."
His greatest joy is visiting his mother, which he gets to do every three months. Kou says Hei secretly hoards what little candy he gets so he can give it to his mother during his visits.
According to the Chinese Ministry of Justice, there are currently about 600,000 children of convicts in the country. Morning Tears' general director Koen Sevenants says in over half the cases the NGO deals with, a mother has killed an abusive father.
The non-profit organization also runs three other centers in Zhengzhou, Henan province, Xi'an, Shaanxi province, and Chengdu, capital of Sichuan province. This year, it will support 260 children in China and work towards the general improvement of childcare worldwide.
Currently, the organization is seeking 500,000 yuan in private donations to open a child referral and assistance center in Sichuan's Jianyang city in September. The center plans to work with the China Legal Aid Foundation to screen children who lost a parent in the May 12 earthquake to find out if the other is imprisoned. Those for whom no guardians is found will be taken in by the center.
The non-profit organization seeks to place the children of convicts - a group that receives none of the welfare benefits of orphans despite lacking guardians - with family or their parents' friends. However, the stigma attached to these children repels anyone from assuming guardianship in about half the cases, Sevenants says.
"Children of criminals are often considered criminals themselves," he explains. "Because of the stigma, it is like they have sentences of their own."
In addition to facing discrimination, these children must also grapple with their trauma and relearn how to socialize.
"One of the main issues about healing traumatized children is restoring playfulness," Sevenants says, adding these children often need to relearn how to play. "Through play they digest the awful things that happened in their lives."
After living at the children's village for four years, 12-year-old Li Zhen still struggles with playfulness. She was hiding under a bed playing hide-and-seek with her brother when she saw her mother kill her abusive father.
Li was 9. But today, the girl still spends long periods under her bed, despite having made progress, Kou says.
"We know the horrible thing she watched happen four years ago almost completely destroyed this little girl's entire world," Kou says. "But now, we can see that she is able to at least calm down some and begin to reconnect with the outside world."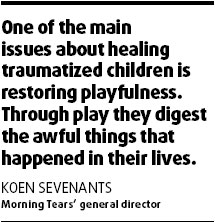 But at the same time, Morning Tears senior advisor Pierre Schavey, says alarm bells go off if a child resumes playfulness too quickly after their parents' arrest. In such cases, children aren't dealing with their trauma, and the problem can often manifest into rough play.
The circumstances under which children come to Morning Tears' centers can also impact not only how the children heal themselves, but also how they interact with one another.
"Children who have already lived on the street have developed survival skills that include verbal and physical assertiveness (and) fighting, because they are used to the rule that the strongest will get the food," Sevenant says. "On the contrary, children whose parents have been recently convicted are weak and defenseless (and) might be too vulnerable to endure street children."
For more than a year after her parents were arrested for theft, Xiao Yue, then age 7, and her brother lived on the streets with a group of parentless children, who taught them how to steal and swindle to survive.
When the police brought the pair to the center, they had trouble interacting with the other kids and adapting to the rules.
"They played truant; they cheated; they beat the other kids violently," Kou says. "But no one ever thought of giving up on them, and whenever they would misbehave, the teachers would forgive and accept them."
The brother and sister often ran away together in their first year at the children's village. But one day, the children returned on their own, Kou says. And, it was then the caregivers knew the two had come to accept the center as their home.
(China Daily 06/25/2008 page20)