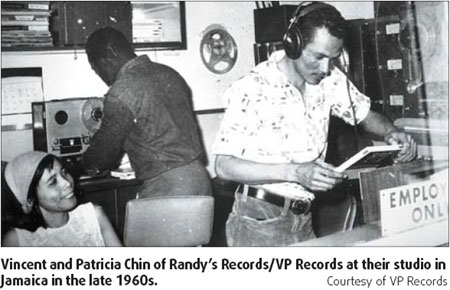 For a relatively small island with a population of less than three million inhabitants, Jamaica has exerted a disproportionate influence on the world's popular culture.
Reggae music, the unique, infectious hybrid put together by the island's masterful musicians in the 1960s, is now one of the most popular forms of music on the planet; the iconic figure of Bob Marley, often described as "the first Third World superstar", has been rightly feted as an exceptionally talented singer-songwriter whose universal messages of self-determination have struck chords with people on all continents.
Everyone knows Marley was Jamaican, yet few realize his first recording was made by a Jamaican record producer of Chinese origin, just one example of the crucial yet largely hidden role that Chinese Jamaicans have played in reggae's creation and dissemination.
Jamaica's national motto is "Out of Many, One People", reflecting the diverse cultural heritage of its inhabitants. Although the vast majority are African descent, there are also significant communities of Chinese, Indian, Middle-Eastern and Portuguese origin.
The first Chinese reached Jamaica in 1854, when 472 laborers who had been working in appalling conditions on the Panama Canal petitioned the British government to be returned to China, only to find a selected coterie shipped to Jamaica, the closest British colony, where they were contracted to construct a railway line.
In the 20th century, the Chinese Jamaican community was sizeable, but at its peak still made up less than 1 percent of the island's population.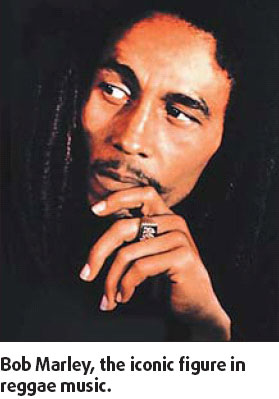 Nevertheless, Chinese Jamaicans soon formed a mercantile class of shopkeepers, becoming a well-established facet of Jamaican commercial life in the years following World War II, the same period in which a handful of pioneering entrepreneurs changed Jamaica's musical landscape through sound systems.
These sets of heavily-powered sound equipment would blast American rhythm and blues, Latin tunes and local forms, such as calypso and mento at open-air dance events; one of the first and most popular to emerge in the late 1940s was Tom the Great Sebastian, run by a hardware store proprietor named Tom Wong, whose father was of Chinese origin.
Then, in the mid-1950s, other forward-thinking entrepreneurs, such as Stanley Chin, owner of a radio repair service, kick-started a proper Jamaican music industry by beginning to record local mento and calypso performers.
Among the most important to begin producing then was Vincent "Randy" Chin, a record shop owner whose carpenter father had left Chinese mainland in the 1920s to settle in Jamaica.
Assisted by his wife Patricia, a woman of mixed Chinese and Indian origin, Chin enjoyed spectacular success during the early 1960s with artists such as Lord Creator.
Following from Vincent Chin's early lead, several other Chinese Jamaicans became prominent figures on the music scene.
During the early 1960s, Leslie Kong and his three brothers operated an ice cream parlor and record shop called Beverley's, which also had real estate offices attached, but after being approached by singer Jimmy Cliff, Leslie decided to enter record production, scoring instantly with hit recordings by Cliff and Desmond Dekker, though Bob Marley's debut effort made little impact.
During the late 1960s, Kong enjoyed more hits than any other producer on the island, and after recording an album by Bob Marley and the Wailers was poised to achieve greater glory in 1971 when he unfortunately suffered a fatal heart attack.
Meanwhile, producer and bass player Byron Lee was making waves with a rival recording studio, Dynamic Sounds.
During the early 1970s, Dynamics was the best-equipped recording facility in the Caribbean, leading Paul Simon and the Rolling Stones to record there; like Tom Wong, Lee's mother was a black Jamaican, but his father came to Jamaica from Hong Kong.
Although many Chinese Jamaicans are only vaguely aware of their cultural roots, session musicians Geoffrey and Mikey Chung, whose Now Generation band were one of the most popular 1970s outfits, managed to maintain direct links with their Chinese heritage, thanks largely to the efforts of their father.
"My father came to Jamaica in the 1930s and took over his brother's shop; then, in 1959, I went to Hong Kong for a year and a half with my father and brothers, as it was a Chinese custom that the father bring the children back to the homeland to pick up the Chinese heritage," Mikey Chung says.
As reggae gained international acclaim during the late 1970s, Herman Chin-Loy's Aquarius became one of Jamaica's top studios, but this politically turbulent era had drastic repercussions for the music industry: the 1976 and 1980 general elections involved shocking levels of politically motivated violence, as the socialist-leaning People's National Party fought pitched battles against the right-wing Jamaica Labor Party.
The result was an exodus of Jamaican businessmen, which saw a gradual curtailment of Chinese Jamaican influence in the island's music industry. However, the Chinese link to reggae remained strong.
Herman Chin-Loy moved Aquarius to Miami, and Vincent and Patricia Chin brought Randy's to Queens, where it morphed into VP Records and expanded into international distribution. After clinching a deal with Atlantic Records and causing a sensation with dancehall artist, Sean Paul, VP remains the largest reggae company in the world.
Without the vision and commitment of Chinese Jamaicans, reggae music clearly would not have reached its current level of global importance; their vision is thus to be celebrated, as the music brings such joy to so many people all over the world.
(China Daily 06/24/2008 page19)