Adidas AG, which was awarded a $304.6 million verdict against Payless ShoeSource on May 5 for selling knockoff striped sneakers, may win even more from Wal-Mart Stores Inc in a lawsuit making similar claims.
The world's second-biggest sporting-goods maker may collect at least $326 million in damages, the equivalent of $1.60 a share, if a jury agrees Wal-Mart copied Adidas's three-stripe sneakers by selling shoes with two-and four-stripe motifs as Payless did. A jury trial is set to start on Oct 6 in federal court in Portland, Oregon, the same courthouse where the Payless case was decided.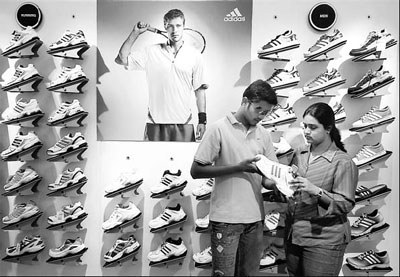 A couple look at Adidas sneakers at a mall in Mumbai, India. Bloomberg News
Wal-Mart, the world's largest retailer, settled two earlier suits by Adidas over striped sneakers. The company's repeated promises not to mimic Adidas may prompt a jury to award punitive damages much higher than those against Payless, said Steven Nataupsky, managing partner of the law firm Knobbe Martens Olson & Bear in Irvine, California.
"Adidas will be arguing that a company has infringed twice, has agreed to stop twice and yet is marching forward with more infringing shoes," said Nataupsky, whose firm represents plaintiffs and defendants and isn't involved in the Adidas case. Its clients include Starbucks Corp and Ranbaxy Pharmaceuticals Inc.
Adidas, based in Herzogenaurach, Germany, has sued about three-dozen retailers since 1999 in the US and Europe to keep what it considers knockoffs of its shoes and clothing from diluting the brand. The campaign is finally paying off.
"The brand value is incredibly important," said Alexander Roepers, president of New York-based Atlantic Investment Management Inc, Adidas's second-largest investor. "Just like Coke or Nike, they'd be wise to protect it, and that's what they're doing."
Wal-Mart, based in Bentonville, Arkansas, disagrees with Adidas's assertion that the stripe pattern, used since at least 1952, has significance in the sporting world.
"Wal-Mart denies that the three-stripe mark has achieved international fame and tremendous public recognition," the company said in court papers.
The Arkansas retailer "probably watched every step" of the Payless trial to develop its own strategy and recognizes problems in the Payless defense, Nataupsky said.
"If Wal-Mart's going to take it to trial, then they have clearly in their own minds determined how they can avoid mistakes," he said.
Daphne Moore, a spokeswoman for Wal-Mart, declined to comment on the likelihood of another settlement or any other aspect of the case.
The suit, filed in 2005, claims Wal-Mart "maliciously" sold hundreds of thousands of imitation Adidas shoes in violation of a 2002 settlement that barred it from offering "confusingly similar" products. A previous settlement, in 1995, prohibited Wal-Mart from selling shoes with three parallel stripes or certain four-stripe designs.
Agencies
(China Daily 06/18/2008 page16)