In Sight: Lu continues 'phenomenal' rise
By Wu Jiao
Updated: 2008-06-16 07:36
Former Beijing Vice-Mayor Lu Hao was elected as the new leader of the Communist Youth League of China (CYLC) over the weekend at the conclusion of the league's 16th National Congress.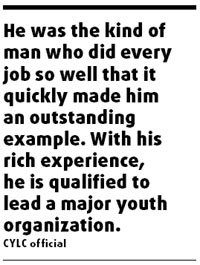 Lu, 41, who made his debut as first secretary of the Secretariat of the CYLC's Central Committee at a forum marking the 89th anniversary of the May 4 Movement, is now the youngest ministerial-level official in China.
Founded in 1922, the CYLC, which today has more than 75 million members, is a mass youth organization under the leadership of the Communist Party of China (CPC) and plays a supporting role to the CPC.
It is traditionally a training ground for young officials and a reserve from which CPC can choose candidates for further promotion.
President Hu Jintao was the first secretary of the CYLC Central Committee between December 1984 and November 1985.
Talented official
A graduate of Peking University under the instruction of Li Yining, one of the most renowned economists in China who helped initiate market-oriented reforms in the 1980s, Lu began his career as assistant head of the Beijing Qinghe Woolen Textile Manufacturing Factory after he graduated with a master's degree in economics in 1996.
Lu reportedly saved the State-run factory from bankruptcy with a combination of skilled management and effective marketing.
The dramatic change in the factory's fortunes made Lu stand out at a time when the central leadership was embarking on reforms of its loss-making State-run businesses.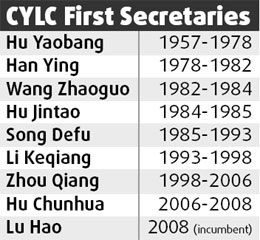 He later became director of the Management Committee of Beijing's Zhongguancun Science and Technology Park, which is regarded as China's "Silicon Valley".
Lu later rose to the position of vice-secretary of the CPC District Committee in Beijing's Haidian District.
In 2003, at the age of 36, he was elected vice-mayor of Beijing in charge of industry, becoming the country's youngest vice-mayor at the time.
Lu thus became the icon of the country's policy of promoting young and capable leaders. As a result, a new term emerged - the "Lu Hao phenomenon".
This describes young officials who have quickly climbed the career ladder thanks to their outstanding achievements.
"He was the kind of man who did every job so well that it quickly made him an outstanding example," said a CYLC official who wished to remain anonymous.
"With his rich experience, he is qualified to lead a major youth organization," said the official.
Departure from tradition
Like his predecessors, Lu was educated at a leading university and worked at the grassroots before rising to stardom.
For instance, his predecessor Hu Chunhua, who was appointed governor of North China's Hebei province last month at age 45, also studied at Peking University and worked in Tibet.
And Vice-Premier Li Keqiang, who led the CYLC between 1993 and 1998, also studied at Peking University. Li used to be a village head.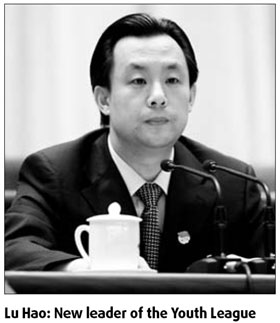 Yet analysts say that Lu's promotion marks a departure from the usual practice for appointing CYLC leaders, as he did not hold any position within the central leadership of the CYLC prior to his appointment as its first secretary.
"Lu's appointment signals that the CPC top leadership is trying to facilitate exchanges among the CYLC and government organs," according to Chen Liangwen, an analyst at Peking University.
CYLC membership reached 75.44 million at the end of 2007, which means that around 25 percent of young people in China are members. Students account for 51.3 percent of CYLC membership, while young people in the agricultural, industrial and service sectors account for 26.9 percent, 7.3 percent and 14.4 percent, respectively.
And the league currently has 2.9 million grassroots organizations, with the number of league officials standing at 191,000.
"A large proportion of the officials entered CYLC organs immediately after their graduation. Though they are capable organizers, they have relatively less experience in economics, compared with officials in other fields," said the unnamed CYLC official.
Lu's appointment may bring a new mindset to the CYLC, one that attaches more importance to officials' capabilities in the fields of business and economics, Chen said.
The promotion also puts Lu on the fast track to future promotion, according to Chen.
Two recent CYLC leaders, Zhou Qiang and Hu Chunhua, now both serve as provincial governors.
Zhou Qiang, who became CYLC leader in 1998 at age 39, marking him the youngest ministerial-level official at the time, became Hunan governor at age 47.
And Hu Chunhua, after spending 18 months as the leader of the CYLC, became Hebei governor at age 45. Lu is widely expected to rise further up the career ladder in the future.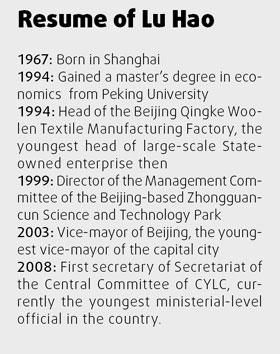 "Lu has an excellent grasp of business and economics, so now it's time for to get more political experience by serving as the leader of the CYLC," said an analyst who only revealed his surname Chen.
Lu, who came from an ordinary family in Xi'an, where his father worked as a university lecturer, showed his remarkable leadership skills at university, said Chen.
He was the first chairman of the student union at Peking University to be elected following the "cultural revolution" (1966-76).
He was a reluctant candidate. It was said he "wanted to spend more time on his studies as there were many talented students in Peking University, and he didn't want to lag behind".
But his former middle school PE teacher in Xi'an said Lu had proven to be a good leader even when he was in his early teens.
"He was not physically strong in the school volleyball team. Yet soon after he joined the team, he became its leader," said Zheng Jiufeng.
"He was so good at coordination that we depended on him to organize matches and he bridged the gap between teachers and students quite well," said Zheng.
(China Daily 06/16/2008 page5)