AIDS workers target 'Sugar Daddy' to protect young girls
By Li Yan
Updated: 2008-06-11 07:54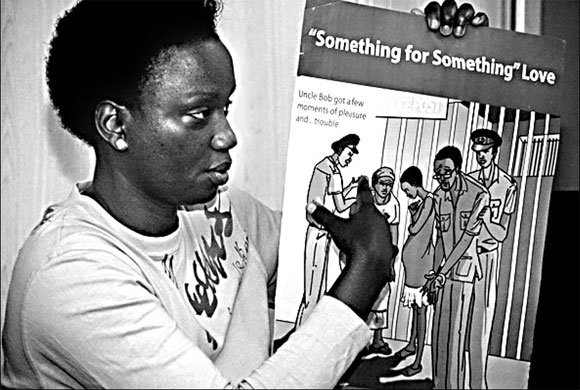 Juka Agnes Barongo, a national program officer of the United Nations Population Found, holds the post "Something for something love" at her Kampala office on May 17. Li Yang
KAMPALA: The smiling face of a successful businessman beams from large roadside posters along the crowded thoroughfares of this central African capital. But the message is far from friendly. "Would you let this man be with your teenage daughter?" asks the large print under the picture.
Another poster near the Makerere University Business School, titled "Something for something Love", shows a successful-looking man named Uncle Bob in police custody while a pregnant, weeping young girl hands her mother the cell phone that Uncle Bob gave her for sex.
Posters like these emphasize the latest front line in Uganda's continuing battle against the spread of HIV-AIDS - the growing practice of cross-generational sex that successful businessmen prey upon young girls even though many of these men have HIV-AIDS.
"We know that some rich men in Uganda have HIV-AIDS and many young girls have been infected because they willingly become mistresses of these men, many of whom are married," said Helen Mukiibi, deputy news editor of the New Vision newspaper in Kampala.
Revealing statistics are detailed in literature provided by the anti-AIDS "Go-Getters" program, which started in 2003 and is popular in Ugandan universities.
The introductory booklet says the interactive program was started in response "to shocking statistics that show HIV prevalence in Uganda is 5 times higher in girls aged 15-19 than in boys the same age."
Mirenbe Etro Lisa, a sophomore student at Makerere University who joined Go-Getters last year, said: "We don't discriminate against the girls who have these older lovers, but we just want them to know that we can earn money in other ways by our own hands, we can be more independent."
Cross-generational sex has only recently been identified as a serious HIV-AIDS problem in Uganda.
"We received AIDS education in primary school because few families talk about it to their young children," said Kazibwe Moses, a freshman at Makerere University Business School.
"Higher education here is for the rich, and many university girls think they can move into a higher class by having sex with rich middle-aged men," Moses said.
Cross-generational sex has affected many lives in Uganda. "I contracted HIV in 1989 because my first wife was the mistress of a rich man," said Bernard Nzabandora, a farmer, who got HIV 18 years ago and joined health authorities as a volunteer to give HIV patients advice and hope.
"My son is HIV positive, and he is 18," said Nzabandora.
Samuel Kansime, 35, said he became infected with HIV in 1991 when he was a university student. "I got AIDS from unprotected sex, and the girl who I had sex with had a sugar daddy before me, and she got AIDS from him," he said.
Kansime, who now has a business selling motorcycles, said his 16-year-old girlfriend gave birth to a boy for him in 1992, but the child lived for just 10 months. His girlfriend died soon after.
In Uganda many women stay at home while their men work.
"Only a low percentage of women have jobs, and most women can't control money in their households because they don't work," said Peter Mugyenyi, chief of Kampala's Joint Clinical Research Center. "Women should be more independent, and it will be a way to stop cross generational sex," he said.
(China Daily 06/11/2008 page11)