Ensuring product safety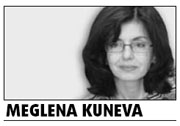 As EU Commissioner for Consumer Policy, I began an official visit to China from yesterday. This is my second visit to China in a little over one month; I previously accompanied EU President Jose Manuel Barroso during his unprecedented series of talks with Premier Wen Jiabao to take forward the EU-China strategic partnership and to launch the High Level Dialogue Mechanism, which will address key concerns in the trade relationship.
The principal aim of my return visit is to take stock of the progress with regard to the commitments made a year ago during my visit in July 2007 to strengthen EU-China product safety controls.
The visit will also provide an opportunity to discuss plans for future co-operation, in particular, the revision of the current EU-China Memorandum of Understanding on consumer product safety and the preparation of the first outreach meeting involving the EU, the US and China in Beijing in September as well as the first EU-China-US trilateral summit on product safety in Brussels this November.

Today's Top News
Editor's picks
Most Viewed