Class, village, touched by longtime teacher

Updated: 2008-05-24 07:41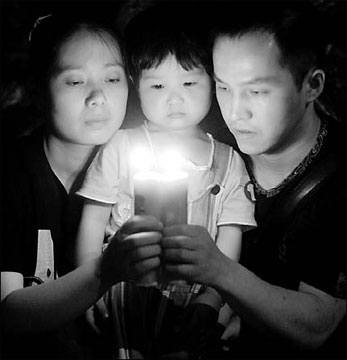 A family in Sichuan lights a candle to give blessings for the earthquake victims. Zhang Xiaoli
Twenty-seven kindergarten students are alive today because of Wang Guangxiang's selfless efforts to save her class from the May 12 earthquake in Sichuan.
The 52-year-old vice-director of a kindergarten in Jiangyou's Wutong village was discovered among the dead after the quake.
But, miraculously, Yang Yang and another student, the last two kindergarteners of the class, were found alive - protected under Wang's body.
More than 100 children were napping when the quake rumbled through the area.
Wang quickly woke up the 20-odd children under her care and helped bring them outside as fast as she could. She rushed back and forth, pulling more kids out again and again.
Before Wang could make it out one last time, the building collapsed.
Wang had worked at the kindergarten for the past 24 years. Nearly half of the villagers had previously been her students when they were young, including Yang Yang's father, Gang.
"Once I fell in the river when I played with other kids near it. It was teacher Wang who jumped into the river and got me out," the 28-year-old father recalled.
Wang's son Li Jun says his mother had always been especially fond of children.
"My mother loved children. I had asked her to retire and enjoy the remaining years. But she always said she wouldn't get used to a life without the kids."
(China Daily 05/24/2008 page4)