Lest we forget

Updated: 2008-05-24 07:41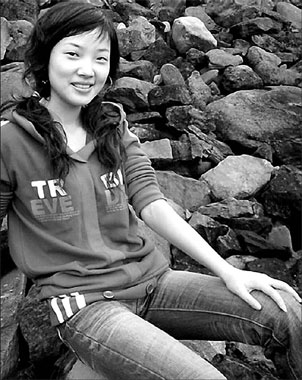 Before losing her life to save children, Yuan Wenting, 26, was a teacher at the Minzhu Primary School in Shigu town. File photo
Teacher Yuan Wenting will be forever remembered for saving her beloved students on the day Sichuan was hit by a massive 8.0-magnitude earthquake.
Wu Jiahui was the last student to be saved by Yuan on May 12.
The 7-year-old boy will never forget the moment his teacher brought him outside to safety, before returning to the classroom to fetch more of his frightened classmates.
But, at that very moment, the building collapsed - and Yuan never came back out again.
"Teacher Yuan is there. She did not die. I saw her hug my classmates," Wu cried.
"We were in class when the earthquake happened. We were too shocked to run. Teacher Yuan took two students out immediately while shouting 'Run, run, run'. We were so frightened that we had no idea where to run," recalled the primary school boy. "She had to return to get us out again and again."
Yuan was finally discovered in the ruins on the evening of May 12, with two students under her arms.
The 26-year-old teacher chose to return to her hometown Shifang, to be a teacher at the Minzhu Primary School of Shigu town after graduating from Sichuan Zigong Normal School.
"Yuan once told me that every student is her kid," said Fang Yingnian, a classmate of Yuan's from college.
Fang said Yuan believed the 6- and 7-year-old kids could be compared to pieces of blank paper - at important stages in their lives - developing and establishing personalities and views of the world, values and life.
"She (Yuan) wanted to initiate them on their way of life," said Fang.
(China Daily 05/24/2008 page4)