Beidou satellite system delivers
By Wang Xu
Updated: 2008-05-18 06:49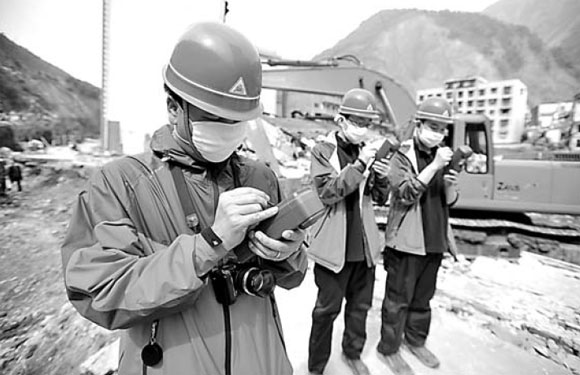 Rescuers use Beidou-Compass Satellite Navigation System to report the latest situation in Beichuan. Li Ge
After trekking for six hours in the mountains, Yang Xue, a 30-something mine worker in Sichuan's Qingping Village, finally made her way out of the quake-hit area.
Since the earth shook on Monday, Yang had lost all contact with her family and was desperately looking for information on them.
Thanks to the Beidou-Compass Satellite Navigation and Communication system, Yang was finally able to find out that her family had survived, and even sent them a message. Beidou, China's own equivalent to the US GPS navigation system, has been widely used in the rescue and relief operations following the earthquake. Besides helping the Army to navigate, it has offered message communication services in areas where all other communication means have been destroyed.
On May 15, the Beijing-based Beidou System Operation Center dispatched its first team for emergency communications in the quake-hit areas. The team was equipped with 20 cell-phone-like terminals that could send as many as 40 words at a time to the operation center in Beijing.
When the team reached the outskirts of the Qingping village, it found out more than 10,000 villagers were still trapped in the mountainous area because the only road out was blocked as from landslides.
Although the telecom infrastructure was completely destroyed in Qingping, the Beidou team was able to inform its Beijing operation center, which passed the information onto the Army.
(China Daily 05/18/2008 page7)