Cries for help among dead
By Fu Jing
Updated: 2008-05-16 07:37
SHIFANG, Sichuan province: Feng Peipei promised days ago that she would celebrate her mother's 36th birthday, which fell yesterday.
It is a promise the 14-year-old girl will never be able to keep.
Yesterday morning, Yi Chuanying saw the remains of her daughter being pulled out from a collapsed three-story school in Hongbai town in the city of Shifang.
"You promised we would be together for my birthday today, and for yours next month," Yi, a divorced migrant worker who flew from Shenzhen in Guangdong province to the disaster site, cried.
"You also promised to give me a belated Mothers' Day gift.
"But why did you break your promise, my dear daughter?"
The mountainous town of Hongbai is one of the worst-hit areas in Monday's quake that struck Sichuan province.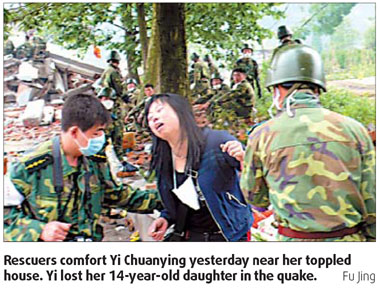 Life-detecting devices have found that most of the 700-odd students from the town's primary and middle schools have no chance of survival, rescuers have said.
"Today, some remains have even started to emit terrible smells. Hope of survivors is dim," rescue team leader Wen Hongbin said.
But some have been lucky.
About 50 primary school pupils who were out in the open preparing for physical education lessons at the playground managed to escape being buried.
Five teachers who were waiting for afternoon classes to begin at 2:30 pm were also outside the building, just two minutes before the quake struck, and managed to escape as well.
Few buildings remain standing in the town, which is about 30 km away from Shifang, one of the top-10 richest cities in Sichuan because of its chemical and manufacturing industries.
Unknown numbers of workers and miners in the town are reportedly either stuck under debris or isolated in tunnels, where electricity and communications remain cut off.
A landslide at the entrance of a main road has also blocked off the town from the outside, where the only way in is by foot.
Soldiers, medical personnel and volunteers have had to walk on twisted rail tracks to deliver relief supplies.
On a road deep in the mountains of Shifang towards Hongbai, funerals for quake victims are commonplace, while quake victims made homeless meet relief workers moving into the area.
Many hope that roads can be repaired by the weekend, even as troops are starting to deliver relief supplies to quake-hit villagers via helicopters.
"It's difficult to carry out rescue work without heavy machinery, which cannot be moved in," rescue team leader Wen said.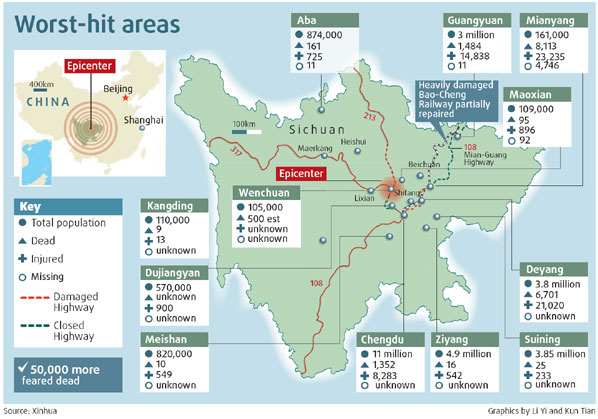 (China Daily 05/16/2008 page3)