Impact is imminent
By Liu Wei
Updated: 2008-05-06 06:57
Joan Chen. Gong Li. Zhang Ziyi. Liu Yifei? The starlet who co-starred with Jet Li and Jackie Chan in The Forbidden Kingdom may just be China's next big thing. Thanks to her performance in the kungfu blockbuster, the 20-year-old has just joined the William Morris Agency (WMA), the prestigious talent and literary agency with past like Marilyn Monroe, Elvis Presley, and Katharine Hepburn. Liu is one of the agency's only two Chinese actresses; the other is Zhang Ziyi.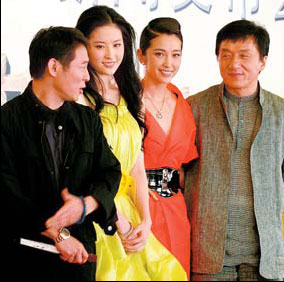 Jet Li, Liu Yifei, Li Bingbing and Jackie Chan (from left to right) at a press conference held in Beijing for The Forbidden Kingdom.Jiang Dong
The comparison is inevitable as the two young Chinese beauties have much in common.
They both achieved fame at a young age. At 20, Zhang starred in Zhang Yimou's The Road Home (Wode Fuqin Muqin) and one year later she appeared in Ang Lee's Crouching Tiger, Hidden Dragon (Wohu Canglong). Also at age 20, Liu co-starred with Jet Li and Jackie Chan in the $70 million project, which has since become a global smash.
Now they are in the same agency and share an ambition to make it big not only on the domestic market, but on the global arena.
"Zhang has been the most successful Asian star in the world," she says. "I am just starting, so it's hard to compare but for me it's an honor to be compared to her."
Born to a French-language professor and a dancer, Liu received dance, singing and piano training as a little girl. At age 10 she moved to America and spent four years at a middle school in Long Island. She speaks fluent English and her straightforwardness thanks to her years in the States also helps her easily communicate with international filmmakers.
Liu is happy that many of the roles offered to her are modern, multi-dimensional characters.
Despite all of her advantages, Liu says she admires Gong and Zhang's cooperation with acclaimed film directors such as Zhang Yimou and Ang Lee.
"For my next character, I would not care if it is a leading role or a supporting one, as long as the director is really good," she says.
Her dream may soon come true. In May she will audition for a Clint Eastwood film.
Different from Zhang's apparent toughness and what Time Magazine calls as a sense of purpose and a will of steel, Liu impresses audience with her soft voice, sweet smile and gentle gestures. One of her noted roles is the fairy-like Xiaolongnu (little dragon girl) in The Return of the Condor Heroes, a TV series based on Hong Kong wuxia writer Louis Cha's novel. The girl lives in a stone tomb for 18 years, eats only honey and is as pure as a peri.
However, Liu laughs when asked is she is like any of the characters she has played.
"Most of the time I am tender and delicate," she says. "But I can be very tough and independent, just like Golden Sparrow in The Forbidden Kingdom."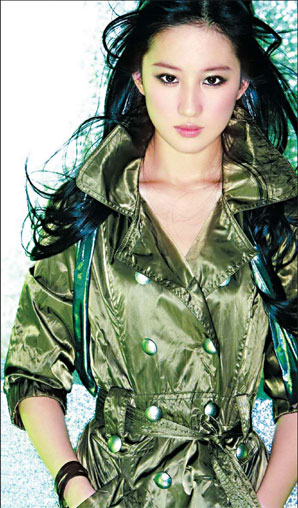 Liu's parents divorced when she was 7. Since then she has been living with her mother Liu Xiaoli. Although she entered the entertainment industry when she was 15, her mother did not accompany her to interviews. For every role offered to her, her mother would ask her opinion first and would not make decisions for her.
Most of the time she is just another 20-year-old. The first thing she does after getting home is play with her three Schnauzers. She is reading Totto-chan, or The Little Girl at the Window, female Japanese writer Tetsuko Kuroyanagi's bestseller about a little girl's friendship with her caring headmaster.
"I actually hope audience won't care who I am, but focus on the characters I play," she says. "If they forget Liu Yifei when seeing the various characters, I will feel satisfied."
"Beauty seems not a bad thing to me," she laughs. "My two favorite actresses, Audrey Hepburn and Vivien Leigh, are both famous belles. A good actor has both power inside and out. The thing is, not to rely on your beauty."
Despite her recent signing with WMA, Liu says that she will try to star in at least one Chinese film a year.
"Being a Chinese actor is important to me," she says. "I hope whenever people see me, whether I am famous or not then, they know me as a Chinese actress."
(China Daily 05/06/2008 page19)