Shape and substance
By Raymond Zhou
Updated: 2008-04-30 06:56
Make a right turn at the western entrance of Beijing's Chaoyang Park, and you'll encounter a building that looks like a cross between an office and a museum. If you walk further to the side lawn, you'll come upon phalanxes of miniature sculptures.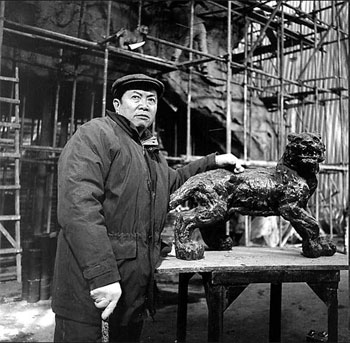 Yuan Xikun, sculptor and curator of Jintai Art Museum in Beijing.
"Sculptures and sports are like twin brothers," says Yuan Xikun, founder and curator of Jintai Art Museum, the cluster of four white buildings with brown roofs. "Since ancient Greece, sports stars wearing laurels have been made into sculptures, and placed in sacred temples."
The Olympic Landscape Sculpture Competition started in 2005. Yuan and his museum were among the three organizers, the other two being the Beijing Organizing Committee of the Olympic Games and the Chinese Fine Arts Association. The miniatures in the garden are some of the 290 winners and finalists, whittled down from 4,000 competing entries sent from more than 100 countries. They feature a wide variety of styles and sports categories, from classic to contemporary, from diving to rope jumping.
"We Chinese have the custom of treating guests to lavish banquets, now it is evolving into something else, namely, treating guests to sports. Sports, in my opinion, are the most direct way to manifest great qualities such as truth and beauty," Yuan elaborates.
Yuan met Juan Antonio Samaranch in 1993 and later drew a sketch for the former president of the International Olympic Committee. Framing took a few years. Shortly before the second time Beijing applied for the right to host the Games, Yuan presented the drawing to him.
"We are born under the same zodiac, the year of the monkey. He is 24 years older than I am. When he saw a photo of our museum, a bird's-eye view photographed from an airplane, he asked why the place was full of green. I told him it was a park and many of the trees had been planted by Chinese leaders. He responded that the Olympics should be green."
Yuan was born in Kunming, capital of Yunnan province. During the "cultural revolution" (1966-76), he had a hard time keeping pace with the "revolutionary" dances. "I was always half a beat behind."
To avoid the urban chaos, where he had the additional task of drawing "Big Criticism Posters", he opted for the countryside. In the beautiful border area of Xishuangbanna, ethnic minorities "served as my models". Yuan sharpened his skills by sketching people in their natural surroundings, people with striking physical features.
In a rubber factory, co-workers took turns to pose for him while keeping the supervisors at bay and the assembly line running. "That forced me to cultivate a special style that employs just a few strokes - 90 percent resemblance and 10 percent refinement. If I slowed down, the stack of Liberation brand rubber shoes would be piled to the ceiling."
With that skill, Yuan went about drawing portraits for "representatives of our global village" later in his life. He draws foreign leaders because "we respect the choices made by people of every country". The first one was of Toshiki Kaifu, Japanese prime minister of 1989-91. Before he invited Yuan to his office, "they evaluated my ability". He added that many Japanese parliament members had portraits commissioned only after a long time in office.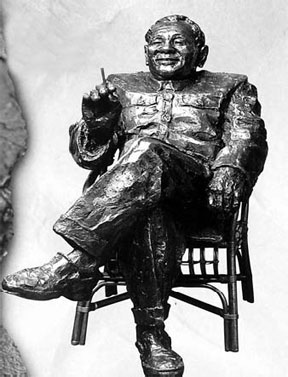 A sculpture of former Chinese leader Deng Xiaoping by Yuan Xikun.
Drawing Kaifu was a little difficult, Yuan admits, because he has a "baby face" and his facial features are "quite subtle".
In 1999, some of Yuan's paintings went on tour to the UN, including many watercolors. The Cuban delegates noticed them. Yuan has always admired Fidel Castro. The Cuban leader's charisma and features had impressed him. "He looks like a statue."
Yuan adopted a two-pronged approach: He applied through the Cuban delegates to the UN; at the same time he sent a request, with samples, to Castro through the Chinese ambassador in Cuba. When the ambassador arrived at Castro's office, he noticed that there was a portrait of Bill Clinton on the desk, also drawn by Yuan. "I had not sent this one to him. But he's like a sportsman, alert to what his opponents have been doing. I appreciate what he has done to protect the street statues left by the Spanish colonialists. He has a big mind."
One day, Yuan was told his request had been granted. When he got to the palace that evening, he was very excited. "Castro's cheek bones had sunk a little, showing the effects of age. So, I decided to draw him from the side, which was a better angle." The session took about half an hour. "I finish when I feel that one more stroke is too many and one fewer is too few."
Before Yuan embarked on his worldwide portrayal of political leaders, he enjoyed a "tiger phase". It all started when he was still in Xishuangbanna. He drew many animals for a scouting team of scientists. His fascination with the tiger also grew from that period. "In a zoo, I'd wish that the tigers were ferocious. But in the wilderness, things could be different."
His brush with a real tiger has become somewhat of a legend, but he clarified that it has been blown out of proportion. "There was a moment of eye-to-eye contact. My head went blank. It was only later that I recalled the details. He had been fed. If he were hungry or had a refrigerator, I would have ended up as his lunch."
Yuan says that he adores the animal. "The tiger is the king of all beasts. But it also abides by the laws of nature." He has drawn or painted it many times. And part of the reason he draws political leaders is because he sees them as the tigers of the global village. Later he went into the sculpture phase, during which the "models" were no longer limited to current politics. "Political leaders change too fast," he explains. He has since sculpted Einstein, Gandhi, among others.
"One has to be full of passion for the subject. Only when you move yourself can you move spectators." Of the 152 leaders he has drawn, 49 have announced their support for the Beijing Olympics. "This shows the fate of the artist is closely linked with the fate of the motherland. In a time of war, even the best sculptures can be used only as an emplacement for snipers. What we artists expect the most is stability of the country."
In recent years, Yuan has been increasingly concerned about the ecosystem. Water resources, the ozone layer, the future of the polar bear - all these bear heavily on him. "I felt extremely sad when I saw images of the polar bear failing to hold onto an iceberg because it is melting. Last year, I turned that image into a sculpture. I want to raise awareness of the coming catastrophe."
Yuan is one of the most honored Chinese sculptors. Just this month, he was named "Sports Artist of the Year" by the American Sports Academy. "I like all my work, especially when they were first created. This is similar to a chef with his cuisine. Each course may be different, but they all come from his hands."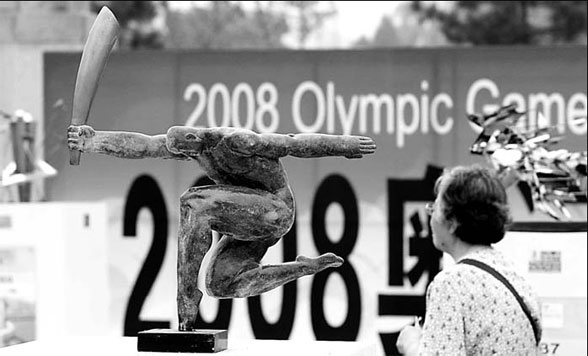 Miniatures of some of the 290 winners and finalists in the Olympic Landscape Sculpture Competition are on display in the garden of Jintai Art Museum.
(China Daily 04/30/2008 page20)