Outdoor ad ban takes association by surprise
By Qian Yanfeng and Zhou Yan
Updated: 2008-04-29 07:28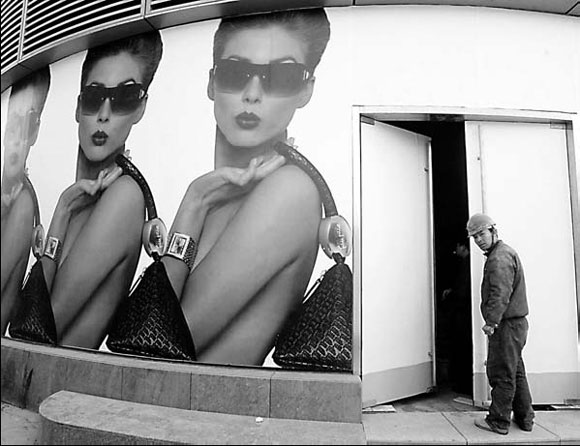 A large billboard alongside Nanjing Road, Shanghai. Gao Erqiang
SHANGHAI: Advertising executive Kelvin Fan spent the afternoon putting the final touches to an advertising campaign for an important client when he received an urgent phone call from the city's advertising association.
The voice on the other end of the line told him the municipal government had imposed a ban on applications for all outdoor ads. To Fan and his associates at Shanghai Bestknown Ad agency, all projects now in hand have to be delayed.
"I was shocked, to say the least. We usually receive notice from the association two to three months prior to any new policy change," Fan said.
He cited the outdoor media ban during APEC in 2001, and the Shanghai Cooperation Organization Summit in the city in 2006.
"But this time the government did not give any reason for the suspension and has not said when it will be lifted," Fan said.
On hearing about the suspension, many of his clients have delayed the signing of new contracts.
Last Tuesday, the Shanghai administration on city appearance and environmental sanitation, the municipal administration on industry and commerce, and the administration for city planning issued a joint notice calling an end to the review and approval of outdoor commercial advertisements in the city.
For those that have already been approved, work has to cease immediately, the notice said. The approval of pubic service ads, however, will be left to the decision of the related authorities.
While the government has not given a specific reason for the ban, the market is rife with speculation the move has been prompted by the desire to ensure that the giant billboards on top of the many buildings and along elevated highways will not bring any embarrassment to the city which is going to host some of the events of the 2008 Olympics. Beijing launched a similar billboard cleansing campaign at the end of 2004.
Qiu Dongming, director of the outdoor advertisement committee of the Shanghai Advertisement Association, said he had not expected the government to come up with such a decision without giving prior notice.
"I was so surprised," Qiu said. "I think the government needs to explain why it did this."
He said there were better ways to regulate the advertising industry than the current ban.
"The authorities might be concerned with the side effects of the outdoor ads, but this does not mean the ban is legally justifiable. It has hindered us from scheduling our projects," Qiu said.
Fan said: "We have no idea when the ban will be reversed. That's is not good for us, since we cannot make any plans for the next few months.
Zhu Chenye, public relations manager for Adidas China, is more optimistic.
She does not think the ban will be in place for a very long time, and therefore it will not have an impact on the company.
(China Daily 04/29/2008 page4)