Last round of Olympic ticket sales set to start
By Lei Lei
Updated: 2008-04-24 07:12
The third and last round of domestic ticket sales for the Beijing Olympics will start next month with 1.38 million tickets on offer, organizers announced yesterday.
From May 5 to June 9, tickets for 244 events in 16 sports, including athletics, boxing, basketball and football, will be available.
People are allowed to buy a maximum of six tickets at one time, three each for two sessions.
Tickets are available at Bank of China outlets or on the official ticketing website on a "first come, first served" basis.
"There are roughly 100 days to go before the Games opens. We don't have enough time for a lottery draw," said Zhu Yan, director of the Olympic Ticketing Center.
"For most of the matches, there are thousands of tickets available, so people don't need to rush," he added.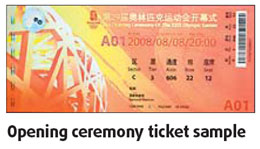 An overwhelming demand caused the computer system to crash just a few hours after the second sales phase started six months ago, forcing organizers to revert to a lottery system.
Zhu promised it would not happen again.
"The system has been optimized and updated and it is being tested right now," Zhu said. "I am confident that the system will meet the requirement of customers," he said.
Bank of China is also ready.
"We have learnt from the previous two stages," said Xu Chen, general manager of Bank of China's Olympic affairs department.
"Since there are not many hot tickets for the third phase, there won't be a rush."
People who book through the website can get their tickets printed anytime during the third phase; and those who pay at Bank of China outlets will get tickets on site.
Tickets for disabled people and their companions will be sold through telephone reservation on the Gehua Ticketmaster Ticketing customer service platform.
A total of 6.8 million tickets are available, of which about 75 percent are for sale domestically, according to reports.
The organizers are still in discussions with other national or regional Olympic committees on ticket allocation, because most of them are asking for more.
"The tickets allocated for people outside China are much more than the previous Games. We will continue to try to balance the demands from different countries."
Also yesterday, the designs for the Olympic tickets were unveiled: Featuring "Lucky Cloud" images, the design is a combination of traditional Chinese culture and the Olympic spirit.
The tickets for the opening and closing ceremonies also drew on the images of the "Bird's Nest" and those for different competitions are marked by different sports pictograms.
Advanced anti-counterfeit technologies have been used and "it is almost impossible to create fake tickets", Zhu said.
(China Daily 04/24/2008 page1)