Philippe's open-door adventure
By Linda Yu
Updated: 2008-04-21 07:26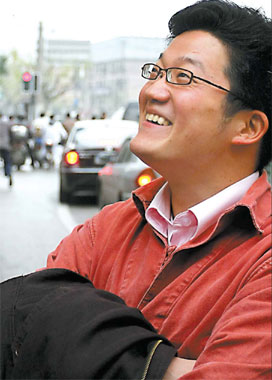 An Asian who has lived mostly among non-Asians, Philippe Tzou's current home is Shanghai. Hu Jie
Thirty-one-year-old Philippe Tzou admits he may have a bit of an identity complex. "I feel that a very strong part of my identity is Chinese, but I also feel very Belgian," says Tzou, who speaks fluent Mandarin, English, French and Flemish.
The Belgian citizen's friendly eyes light up his dark-rimmed frames as he explains his exotic upbringing.
Tzou was born in Cote d'Ivoire in Africa, where he lived until the age of 8. He then moved to his parents' native Taiwan, until he was 13. After that, he moved to Paris, where he stayed until age 19. He spent his college years in the United States, before returning to Europe to live in Belgium until age 29.
At 30, Tzou made his way to the Chinese mainland, where he and his fiance now reside in cosmopolitan Shanghai. There's hardly been a dull moment. But, looking back, Tzou admits his journey has been a little confusing at times.
"I'm an Asian person who has lived all my life among non-Asian people," Tzou says.
But, it's precisely this mosaic of life experience, which makes him perfect for his volunteer job in China.
Tzou is a Shanghai ambassador for Couch Surfing, a non-profit organization seeking to foster cultural exchange by bringing people together from around the world through shared travel experience.
Wannabe surfers simply sign up and create a profile on the Couch Surfing website. Surfers may seek out potential hosts or offer to host potential surfers. No fees are required, but donations are accepted from grateful travelers.
"It's to promote mutual understanding between cultures," Tzou says. "It's really a way to meet people you wouldn't have met had you been a traveler staying at a hotel."
Tzou's first brush with the organization was back in 2006, when he surfed a couch in Sydney. He says he was truly moved by the experience he had with his hosts.
"These guys were so awesome," says Tzou. "They were really genuinely great hosts."
"They touched me a lot emotionally," says Tzou. "So, when I got back I wanted to pay it forward."
When Tzou returned to Belgium, where he was living at the time, he hosted more than 30 surfers in just a four-month period.
Now, in this vibrant metropolis, Tzou continues to host surfers at his one-bedroom apartment near Zhongshan Park.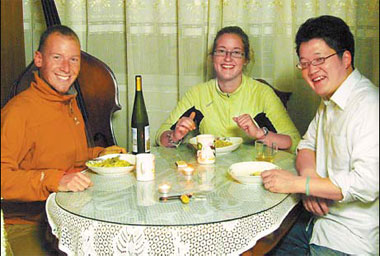 Frenchman Virginien Tiellet (left) and his girlfriend Angelique Giraudeau (center) surf the couch of Philippe Tzou. Courtesy of Philippe Tzou
"Through couch-surfing, I'm basically starting to see the world in a much more connected sphere," says Tzou. "Any kind of person could show up at my doorstep."
That's exactly what one couple from France did. Virginien Tiellet and his girlfriend made their first trip to Shanghai, after finding Tzou through the Couch Surfing network.
"When we arrived, he had a party, and we met other people and went to a restaurant," says 28-year-old couch surfer Tiellet. "And, he spoke about Chinese culture and Shanghai history. He told us many stories about China."
"It was good because we met other people from China, too," says Tiellet. "It was an experience with culture. It was enriching."
"It's really the meeting of different worlds," says Tzou. "That's probably the most reaching part."
Still, the cultural reach of Couch Surfing and organizations efforts alike should not be overestimated, according to research analyst Yiyi Lu.
"I think it's welcome, and I think it helps," says Lu, of the China Policy Institute at the University of Nottingham. "But, I really don't want to exaggerate the facts."
"Cultural understanding is not just a matter of getting more information," says Lu. "It has to be systematic, and this isn't very systematic because you're just staying with one family."
"There's also value and attitudes involved - and those don't necessarily change just because you get more information," says Lu. "In China, for example, people eat dog meat - and the dog is a pet in the Western world. So, you can put two people together and let them talk, but that doesn't necessarily change their views. That person can still be absolutely appalled they eat dog meat.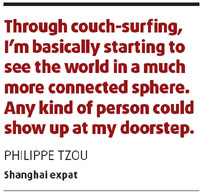 "But, it is a step in the right direction because it allows more access to local people."
Couch Surfing was formed in 2003 and made its global debut online in 2004. There are currently about 500,000 Couch Surfers around the world - and roughly 5,380 online members in China. Beijing has about 853 members and Shanghai has about 770 members. The top three places Couch Surfers visit are the United States, France and Germany. China ranks 19th.
Donations that Tzou has big plans for are to help poor families in rural China. He hopes to makes the Water Buffalo Project a reality for one family in Hubei this summer.
Tzou has arranged for Belgian hosts to collect donations of 1 EURO ($1.58) per night from their couch surfers to raise funds.
"That money comes to me, and I buy a buffalo," says Tzou. So far, enough money has been raised to make a purchase. But, Tzou needs more time to decide on the family. He says he has one in mind, but he wants to be sure the buffalo goes to a deserving family.
Tzou says a buffalo can do a lot for a poor family. The dung of the animal can be used as fertilizer for harvesting, and the buffalo can be sold or its meat eaten at the end of the year.
"The question is, whether that family will react," says Tzou. "It's up to them to make the most of it."
The plan is to continue the project in the future if it works.
"The idea is we start with this," says Tzou. "Through this, we can achieve a micro-financed project to help local individual families - one family at a time," says Tzou. "I hope it will catalyze a movement doing one couch at a time. There's huge potential."
For more information or to register for Couch Surfing, visit www.couchsurfing.com.
(China Daily 04/21/2008 page10)