Protecting farmland
The country's arable land fell by 40,000 hectares last year to 122 million hectares, the latest report of Ministry of Land and Resources has revealed.
To our comfort, the farmland decrease rate has dropped by 0.22 percentage point compared with that the year before last, when 307,000 hectares of farmland were reduced. In the same period, 13,400 hectares of farmland have been prevented from being illegally occupied. Undoubtedly, an array of measures the central government has adopted to protect arable hand has paid off.
What is noteworthy is the fact that we would have lost much more arable land but for the efforts to reclaim or cultivate 196,000 hectares of farm fields from wasteland and fallow land.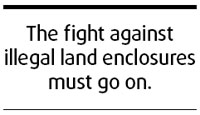 Today's Top News
Editor's picks
Most Viewed