Meeting the needs of migrant workers
By Wang Hongyi, Chen Hong, Huang Zhiling and Wang Jingqiong
Updated: 2008-04-16 07:22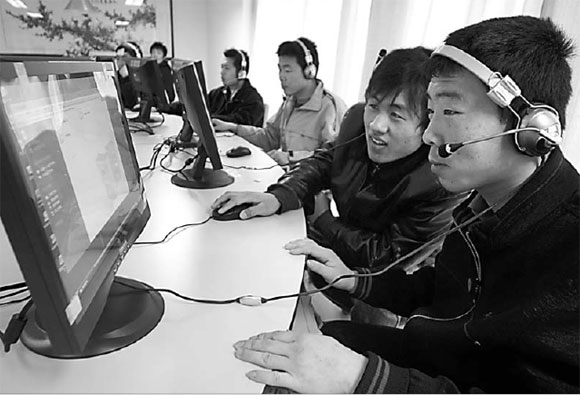 Migrant workers use computers in a learning center in Tianjin specially set up for them. The country's major cities are taking steps to improve welfare, training and social security for their workers. Li Xiang
Many see them as the backbone of China's development.
From building city skylines to keeping streets clean, migrant workers have provided the crucial labor needed to power the country's rapid urbanization and economic growth.
There are reportedly about 200 million of such migrants who have traveled from rural areas to work in cities, with their numbers expected to continue rising.
To help accommodate the workers, four of the country's economic powerhouses - Beijing, Shanghai, Shenzhen and Chongqing - have been rolling out a slew of measures to improve lives in areas ranging from housing and education, to medical services and counseling.
Beijing
The capital has more than 5.1 million migrant workers in the construction and service industries, statistics indicate.
To help protect the workers, the Beijing bureau of labor and social security has stipulated that employers must cover workplace injury and provide medical insurance for their laborers.
To prevent overdue wages for migrant workers, employers are also required to submit salary payment documents to the authorities.
Similarly, the bureau has set up a 24-hour hotline, "12333", to provide answers related to policy, workers' rights and other labor issues.
The city also conducts professional training for migrant workers, partly funded by the government and employers, to help upgrade their skills and ensure that they remain employable.
Shanghai
This financial and economic center faces mounting pressure to improve services for residents and a rising migrant population.
By the end of last year, the number of the city's farmers-turned-migrant workers hit 4 million, making up 17.1 percent of Shanghai's total population, latest figures from the municipal statistics bureau showed.
The number of migrants who were employed last year reached 3.91 million, a 7.2 percent increase over the previous year. The employment rate of migrant workers in the city rose to 97.1 percent, official figures showed.
In response to the surge in population, the local authorities are planning to help migrants get better access to housing, medical services and education for their children.
Migrant workers will get free services to infectious disease prevention and treatment, children's vaccinations and maternity care, the municipal government has said.
Bao Danru, director of the city's labor and social security bureau, said Shanghai has also stepped up efforts to establish a social welfare system for these workers.
In 2002, the city launched an insurance scheme for its migrant workers. Employers are required to contribute to pensions for the workers as well as cover work-related injuries and health insurance.
Currently, 3.3 million migrant workers in Shanghai are covered under this scheme, a number that is expected to rise to 3.6 million by the end of the year, officials said.
Shenzhen
In a move hailed by migrant workers of this southern boomtown, an academician has called for local government to provide farmers-turned-workers with cheap housing.
Qin Hui, a professor with Tsinghua University, said in a forum on Sunday that Shenzhen should take steps to set aside affordable residential areas for low-income residents, including its 6 million migrant workers.
While the proposal received mixed response from the local academic community, related government agencies, including the urban planning and labor authorities, have not commented on the suggestion.
Qin said that while migrant workers have left their homes in the countryside to work in big cities and have spent their "prime" to aid urban growth, they are still not able to settle permanently in the cities.
He suggested that governments in big cities designate marked areas for migrant workers to build their own homes.
"It's really a good idea and we are eager to become local residents and enjoy the same treatment as others," Li Ansha, a saleswoman in a garment store, told China Daily. The Hubei province native has worked in the city for four years.
"Many of my friends are unwilling to return to their hometowns but it's really just a dream for us to own an apartment in the city, with our meager salaries," she said.
Xu Yigang, a security guard in a post office, echoed Li's enthusiasm.
"Everything is expensive here. If the government can allow migrant workers to build our own houses, the rent will be low and we can take care of each other," he said.
However, Ge Hong, vice-chairman of the Shenzhen Academy of Social Sciences, argued that the proposal was "improper".
"As a manufacturing hub of China, cities in the Pearl River Delta areas have suffered serious problems arising from the fast-growing population, which requires the authorities to better control and manage the numbers," Ge told China Daily.
Shenzhen mayor Xu Zongheng told reporters on Monday that the city will gradually adopt a "residential permit" system, which has seen success in the pilot district of Yantian since September.
The system allows the administration to better manage the population by collecting full information on non-permanent residents and providing more employment, social security and educational services for their children.
Chongqing
As part of efforts to help migrant workers adapt to city life, the municipality launched a worker occupational psychology and conduct research center last month to help find out the needs and habits of the workers.
The center is said to be the first of its kind in the country.
"Chongqing started planning for the center after the central government approved the establishment of an experimental zone for urban-rural comprehensive reform in the municipality last year," its labor market chief Lin Hao said.
The experimental zone in Chongqing is a pilot reform aimed at reducing the income gap between rural and urban areas and ensuring that farmers and migrant workers enjoy the same rights, public services and living conditions as urban residents.
Farmers-turned-migrant workers in the city, about 4.5 million in total, play a pivotal role in the construction of Chongqing, which has a population of 31 million.
But they face difficulties in employment and interpersonal skills because they are not confident enough, said Xia Lingxiang, dean of the Department of Psychology of Southwest University in Chongqing.
The center carries out studies on how to help migrants communicate with urban residents and become part of city life, said Xia, whose department is cooperating with the labor market in the move.
Since it started operations, the center has given large-scale, weekly lectures on issues pertaining to the psychology of migrant workers. It has also offered individual counseling sessions for migrants.
(China Daily 04/16/2008 page2)