Full speed ahead seen for news on the go
By Wang Zhuoqiong
Updated: 2008-04-15 07:35
When Dai Bing was appointed to head editorial work for a newly launched mobile newspaper in Shandong province last April, she was not ecstatic about the new position.
"I personally didn't like the idea of receiving mass messages then," Dai said.
"The mobile phone was something very private to me."
But one year on, the 35-year-old just cannot get enough of the mobile news she receives on her cell phone. Dai is one of 300,000 subscribers of the news service in Shandong, a figure six times what she and her colleagues had expected.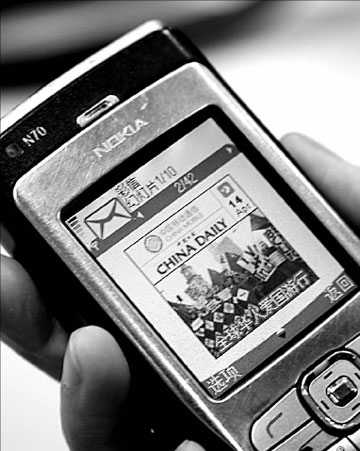 A cell phone user views the front page of China Daily Mobile News, a Chinese-English news service, on a demonstration against biased reports on the Lhasa riots. Wang Hao
The success of Dai's Qilu Mobile Newspaper is illustrative of one of the most dynamic and fast-developing forms of new media.
Since China Women News sent out the first mobile newspaper in 2005, more than 100 such services - from national media agencies People's Daily and Xinhua, to local press Nanfang Daily and Beijing Youth Daily - have emerged.
During the 17th Congress of the Communist Party of China last fall, text messages on the meeting alone reached more than 30 million users, statistics from China Mobile, the country's largest mobile operator, have showed.
In February, China Daily, the national English-language newspaper, introduced the country's first English-Chinese mobile paper to deliver news to cell phone users in the form of multimedia messages. It has become one of the fastest growing mobile newspapers in the country.
Even telecom operators like China Mobile and China Unicom have developed and promoted such electronic newspapers.
The mobile news market targeted by them is huge. Statistics from the Ministry of Information Industry show that by the end of last year, the country's cell phone users totaled 547 million.
Users sent 592 billion pieces of text messages last year, up 37.8 percent year-on-year.
The sheer number of such messages is seen to reflect the widespread acceptance of cell phones as a viable media platform.
People who read newspapers on their handsets daily are mostly those aged between 25 and 35, Dai said.
"They like the idea of having access to the latest information on their cell phones, which goes with them anywhere as long as there are signals."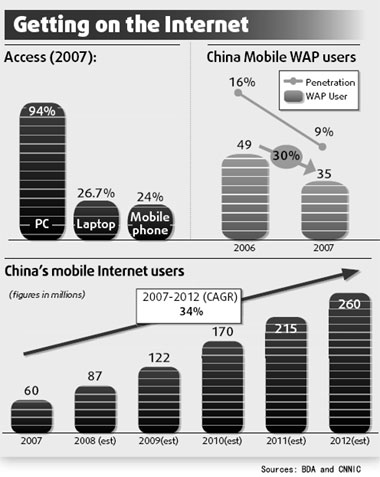 The number of people who go onto the Internet using their cell phones is expected to grow from 60 million last year to 260 million in 2012, with a five-year compound annual growth rate (CAGR) of 34 percent, Beijing-based technology consultancy BDA China Ltd projected.
The improvement of mobile network data transmission speeds through third-generation or 3G technology, which BDA China expects to be launched by early next year, is poised to further boost the number of mobile Internet users.
Similarly, one of the most popular ways of surfing the Internet through cell phones now is Wireless Application Protocol (WAP), an international standard for applications that use wireless communication.
The country's wireless network also holds enormous potential and is set to take off, a WAP development survey released by the China Internet Network Information Center (CNNIC) showed.
About 39 million mobile phone users had access to WAP services last year, with about one-quarter of these users being first-timers of the service, the report said.
However, the fast growth of the sector has also led to copycat products that weaken the quality of news services to mobile phone users, Dai said.
To stand out from heated competition, a strategy to have content that is exclusive and reader friendly has attracted subscribers, she said.
"We have developed one-sentence news commentaries as well as brief jokes. Readers love it," Dai added.
Her department has expanded to six editors, who are responsible for sorting out the latest news stories and forums from major media across the country, into one- or two- sentence digests.
"We are not simply copying from the print or online media. We take references and mixed them into these sentences," Dai said.
Technology bottleneck
Despite the prospect of widespread news services being read on cell phones, there is a growing worry among content providers of limited access to the user database monopolized by telecommunication operators that they say will slow down growth of the sector.
"The industry is growing and it will grow faster when 3G services are deployed," said Duncan Clark, managing director of BDA China.
But the dominance of the telecommunication operators has "squeezed" their partners' (content providers) profits and saddled them with high costs, Clark said.
WAP user numbers actually declined this year, amid China Mobile's strict WAP regulations - such as the suspension of certain unlimited data packages - that affected the industry, BDA China market analysis showed.
WAP user numbers and its penetration rate saw a slight recovery during the fourth quarter of last year, and sustainable growth this year is likely to continue as the negative impact diminishes, BDA China said.
Even after the introduction of 3G, it will still take five to six years before the technology reaches the majority of cell phone users, Qilu's Dai said.
Traditional media
What is inevitable is that fast-growing news being sent to cell phones will change China's Internet culture, media experts have said.
"Getting Internet on the phone is not really a huge change. It just means that one can get online in a taxi," said Jeremy Goldkorn, a media professional based in Beijing.
About 300 million people in the country who cannot get online now will do so once it is made easy on cell phones, and the online population will more than double. Many of these users are poor or in rural areas, Goldkorn said.
"I think cell phone news, websites, video websites, blogs, anything online, is going to take a bigger and bigger share of people's time from traditional media, and the money will follow the readers," he said.
On the other hand, Dai said new media will not have a negative impact on traditional forms such as newspapers or magazines.
"The mobile newspaper is like fast food," she said.
"People will get a quick taste of what happened. But if they want to dig in, they have to read the in-depth reporting that only a newspaper can deliver."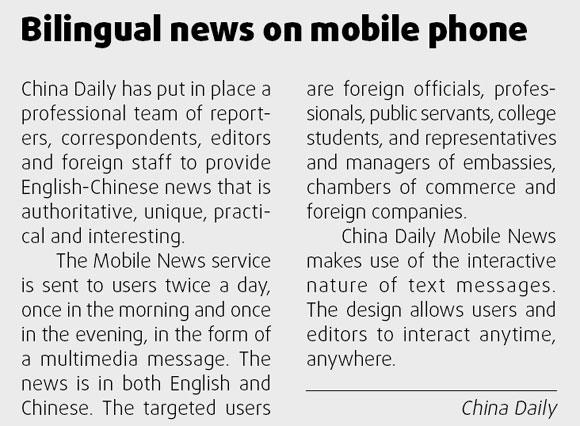 (China Daily 04/15/2008 page2)