Special supplement: APP China pushes green initiative in making white paper
By Fu Yu
Updated: 2008-04-12 07:38
As delegates to this year's Boao Forum discuss the theme of a Green Asia, Asia Pulp and Paper Co Ltd (APP), one of the top-10 papermaking enterprises in the world, is also showing its support to the initiative.
APP has been a strong advocate of "Plantation-Pulp-Paper" integration as the international standard practice to make a sustainable and profitable paper business in China.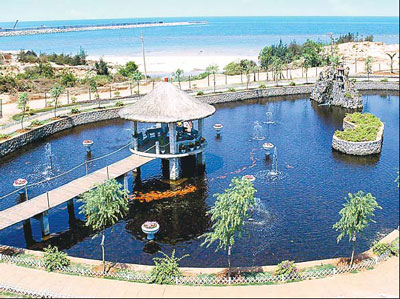 Treated wastewater from the Hainan Jinhai Pulp Mill, a subsidiary of APP China, is used for breeding fish.
As the flagship enterprise under Sinar Mas Group, APP China has stakes in over 20 pulp and paper enterprises, as well as more than 20 plantation sites in China.
Jensen Ko, vice-president director of APP China Forestry Division, notes that "the link between sustainability and a profitable business is clear to us. Minimizing waste and reducing emissions all contribute to a cleaner, efficient and more profitable business".
Integrated approach
APP says integration of three entities that have traditionally been separated - plantations, pulp mills and papermaking facilities - is the way to sustainable development for both the company and the overall economy.
"We play an active role in diminishing our industry's environmental impact. To achieve that, we introduce the best practices in sustainable plantation management, as well as state-of-the-art pollution control technologies at our mills," said Ko.
According to a 15-year plan for the integration of plantations and papermaking issued by the National Development and Reform Commission, the approach can combine papermaking, plantations and agriculture to achieve economic, social and environmental benefits.
As the first company in China to join paper plantations and production mills into a single business operation, APP China has developed what it calls a "big green cycle" covering sustainable plantation management, clean production in paper making and recycling.
With the increasing demand for paper products, China has become one of the world's top importers of paper pulp.
Due to the current shortage of pulp, the development of fast-growing and high-yield plantations can relieve the pressure on natural forests.
APP began its integration project in 1994. Species such as eucalyptus, acacia and poplar trees were cultivated on 300,000 hectares in 10 provinces in China, Ko noted.
Compared to natural forests, plantations have a more fragile ecosystem, which requires scientific management. APP China has set up research and development centers and nurseries in Hainan and Guangxi to develop fast-growing and high-yield plantations, and had adopted sustainable management procedures.
According to the APP China's environmental and social sustainability report audited by the third-party certification group Det Norske Veritasin 2006, APP China adhered to a scientific procedure in planting forests.
It selects seeds of verified species in accordance with geographic conditions and planting needs to avoid genetic narrowing.
Permitted by the government, it uses wasteland, barren mountains, abandoned farmland and ecologically degraded scrub forests as cultivation sites.
The firm uses a sustainable model by regular felling of trees and planting. Only one-sixth of the trees that grow to their full size in six years will be felled, leaving the others standing.
By adopting sustainable plantation management practices, six plantation companies under APP China have already implemented the ISO 14001 environmental protection management.
Several APP pulp and paper companies including Gold East Paper (Jiangsu), Gold Huasheng Paper, Ningbo Zhonghua Paper and Ningbo Asia Pulp & Paper have received certification from the Program for the Endorsement of Forest Certification Schemes (PEFC). PEFC is an independent, non-governmental and non-profit organization promoting sustainable forest management through independent third-party certification.
Clean pulp making
Building on its use of plantations, APP China has developed advanced facilities for its pulp and paper enterprises as an integral part of its plantation-to-paper practice.
An APP China's subsidiary, Jinhai Pulp and Paper Co, China's largest pulp and paper producer, uses advanced technology and facilities in a comprehensive environmental management system that minimizes pollution and maximizes recycling of waste materials.
The company has invested in an eco-friendly alkali recycling system that not only recycles all the "black fluid" produced during pulping, but also makes use of the heat produced from burning it to generate electricity.
To minimize the discharge of wastewater from pulp bleaching, APP China's pulp mills cut the use of water and bleaching chemicals to a minimum by using state-of-the-art technology and equipment.
The wastewater discharged from these firms is well within national standards. The treated wastewater can even be used for irrigation or breeding fish.
Green papermaking
According to the China Environment Annuals 2002, the annual discharge from papermaking was 3.53 billion cu m, accounting for 18.2 percent of all industrial discharges. Chemical oxygen demand (COD) was 2.87 million tons, 40.8 percent of nation's total COD discharge.
APP China's investment of 4 billion yuan in eco-friendly technology and pollution control systems in all its papermaking plants has greatly reduced wastewater discharge and the negative impact of the papermaking industry on the environment.
APP China's largest subsidiary, Gold East, has improved efficiency in the use of energy and resources while putting an emphasis on recycling resources.
To produce one ton of paper, it uses only nine tons of water - one-sixth less than the national standard.
The recovery rate of white water from the papermaking process in Gold East Paper is 90 percent. Recycled water is used for removing dust, cleaning roads and irrigation.
Its discharged carbon dioxide is used directly to produce calcium carbonate filler for the papermaking process.
If the whole papermaking industry in China adopts the Gold East standard, Ko said, it would eliminate roughly 3 billion cu m of waste discharge a year.
The use of recycled paper can greatly ease the shortage of resources in China's papermaking industry. According to an APP China report, a ton of recycled paper can produce 0.8 tons of finished paper, saving 17 trees, more than half the papermaking energy, and reducing 35 percent of water pollution.
At present, the waste paper recycling rate in China is only 30 percent, in stark contrast to Japan's 78 percent, Germany's 83 percent, and nearly 100 percent in Finland.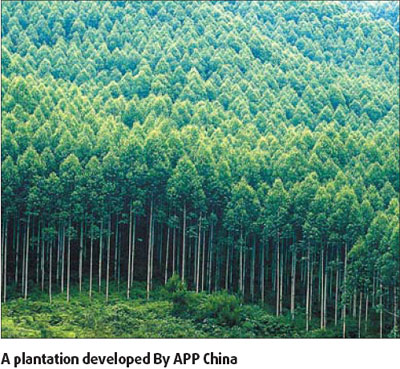 APP China's Ningbo Zhonghua Paper Co Ltd, one of the largest manufacturers of white paperboard in China, has mature paper recycling experience.
It collects discarded newsprint, office paper and magazines from residential and business communities, and reuses them as raw materials for paper production.
With 85 percent of its pulp raw material coming from waste paper, Ningbo Zhonghua has recently implemented its third-phase project -a world-leading paperboard production line. With strict de-inking processes, the whiteness of the paper it produces meets national standards.
"In the long term, we foresee an increase in demand for pulp and paper products manufactured according to international sustainability standards. While we already supply many of our overseas customers with those products, we are excited to see an emerging domestic interest. The sustainability of our business - to be the pulp and paper provider of choice - therefore resides in the sustainability of our practices," said Ko.
APP China has also been actively committed to poverty alleviation, benefiting the community and local economy by providing job opportunities, contributing to society through charity activities.
At present, APP China employs 20,000 staff, cooperates with hundreds of distributors, and indirectly provides jobs for 500,000 workers from rural areas.
(China Daily 04/12/2008 page3)