Where the heart is
By Wang Ru
Updated: 2008-04-08 07:44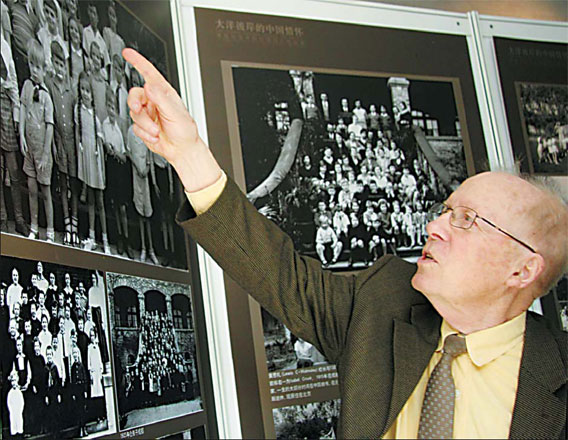 Stephen Endicott finds himself in an old photo during the exhibition.
Today, Canadian Stephen Endicott is in China's Chongqing to visit Nan'an district where his family lived. Then he will give a speech to the students at Chongqing Jiaotong University about his "family and China".
Endicott is one of the four Canadians who came with their families to China last week to discuss the history of a little known era.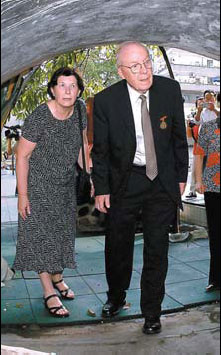 Stephen Endicott visits an air-raid shelter where he often played when he was a child in Leshan, Sichuan province. Shao Xing
On March 29, an exhibition was held at the Luxun Museum in Beijing with 240 old pictures collected by the Canadians, who also visited Chengdu, the capital city of Sichuan province on April 2.
The story began at the turn of the 19th and the 20th centuries, when a group of missionaries from Canada arrived in Sichuan. In the following decades, they witnessed dramatic changes in Chinese society.
After the foundation of new China, most missionaries went back to Canada. As they passed away one by one, their children, who call themselves "CS (Canadian School) Children", still attend the reunion every year, to share stories.
Since 1953, the CS Children have met in mid-October in a small Chinese restaurant in downtown Toronto.
Before dinner starts, they always cheer "Chi fan le!" (Let's get to eat) in a Sichuan accent.
As a senior scholar of York University in Toronto, Stephen Endicott, who was born in 1928 in Shanghai and spent 13 years in Chongqing, has special feelings for China.
"My parents came as passionate missionaries, longing for a spiritual adventure in the unknown land," says Endicott, 80, who goes by a Chinese name Wen Zhongzhi.
As they witnessed the suffering of Chinese people during the imperialistic colonization period and the Japanese aggression, some missionaries decided to do what they could to help, Endicott says.
His father, James G Endicott, who was widely known by his Chinese name Wen Youzhang, worked in Chongqing from 1925 to 1940 and made great contributions during the War of Resistance Against Japanese Aggression (1937-45).
James G Endicott was born in Leshan County three years after his parents came to Chengdu in 1895. His Chinese name Wen Youzhang means "a new chapter of literature".

(Left): Michael Crook tries to reproduce a picture from an old photo. His mother, Isabel Crook, is also one of the Canadian School children. Photos by Xu Qi (Right): Canadian missionaries and their families.
On March 9, 1909, the Canadian school was founded in Chengdu before moving to the campus of West China Union University in 1918. To avoid bombing during the Japanese invasion, the school moved to Renshou county, 100 km from Chengdu, in 1939.
Young James Endicott was one of the first students in the Canadian school, where he studied until 1910, when his family left for Canada.
In 1925, James Endicott followed his father's path to China and settled down in Zhongxian county, Chongqing.
In Zhongxian, the Endicotts restored a Chinese house on the hill. They named their yard Fu Sheng Tang - Blessing Flourishing Hall.

(Left): Children of the Canadian School. (Right:) The Endicotts meet premier Zhou Enlai in 1972.
Endicott traveled around the villages in Chongqing and provided medical services. The young Canadian missionary spoke fluent Chinese and was welcome among locals.
When the anti-Japanese war broke out, Endicott devoted himself to social relief and medical service. He corresponded with Red Cross and local hospitals to help the injured. He also managed to get a plane to transport goods to the worst-hit area in Chongqing and elsewhere in Sichuan.
"The brutal war brought great sufferings to Chinese people; houses were smashed and innumerable civilians were killed in air raids," Stephen Endicott says.
In Chongqing, James Endicott met Zhou Enlai, who became the first premier of New China. A close talk between them helped him understand the great efforts of the Chinese Communist Party to fight the Japanese and unite the country.
In 1941, the Endicotts went back to Canada, but they never stopped supporting Chinese people. Over three years, Endicott gave 500 speeches about what he saw in the war.
In May 1949, Endicott became chairman of the World Peace Council. After the foundation of New China, Endicott was invited to visit the country many times and conveyed the Chinese peoples' goodwill to the world.
In 1993, James Endicott passed away at 95. In order to recognize his great contribution, the Chinese government appointed him "Friendship Ambassador".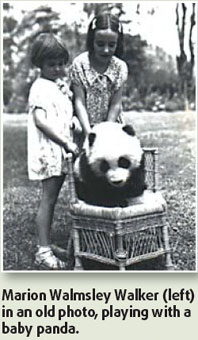 Stephen Endicott took his father's remains to Leshan county where he was born and sprinkled it over the Dadu River. "To rest in his birthplace was my father's last wish," Endicott says.
Stephen has carried on his forefathers' passion to China. In 1980, he visited Sichuan and wrote Red Earth, a book about how a village had changed between 1949 and the 1980s.
In 2005, Stephen came back to Chongqing to celebrate the 60th anniversary of the victory of China's fight against Japanese aggression.
"I spent the first 13 years of my life in Chongqing, the city which I regard as my hometown. It has gone through dramatic changes during the past decades. I feel happy for my people," Stephen says.
At the recent exhibition in Beijing, Don Willmott, 83, whose Chinese name is Yun Dale, stood in front of an old picture of the campus of the West China Union University.
"We often climbed to the loft of this building in the medicine faculty and watched the students do autopsies," Don says.
Born in 1925 in Renshou, Willmott's father, L. Earle Willmott, taught English at West China Union University.
"When New China was founded in 1949, my father was one of the Westerners who praised the new government," Willmott says.
Following in his father's footsteps, Don Willmott became an English teacher at the university before returning to Canada with his family.
"Boys in my class always talked with me in English, and girls prefered Chinese, thus I practiced my Chinese with my girl students."
"One day, a boy told me that I spoke Chinese like a girl," Willmott says laughing.
Also at the exhibition, Marion Walmsley Walker, 77, stared at a photo taken in the 1930s. It shows two little girls touching a baby panda on a cane chair.
"The baby panda was named Pandora, the short girl on the left was me," Walker says recalling her days in Chengdu.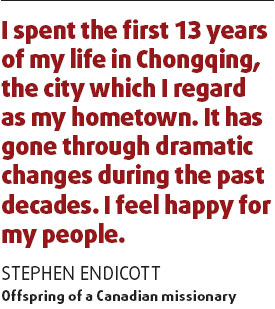 In 1891, O. L. Kilborn (1867-1920), Walker's grandfather, came to Chengdu with his wife Jennie. In 1910, through joint efforts of missionary organizations of Canada, Britain and the United States, Kilborn and others founded the West China Union University.
Walker's parents came to Sichuan in 1921. Her father, Lewis C. Walmsley, became the headmaster of the Canadian School from 1923 till he retired in 1948. Walmsley was excited about Chinese culture, religion and philosophy. During the 25 years he lived in China, he translated the poems of Wang Wei (AD701-761) and published a book about the famous Tang Dynasty poet.
"Mr Walmsley told me that he was entranced with Taoism," Don Willmott says.
Elizabeth Lutley Leach, 75, was excited about returning to Chengdu.
In 1925, Lutley's father Albert French Lutely and his wife came to China, where all of their six children were born.
In 1937, Albert French Lutley traveled through mountainous areas of western China, taking pictures and making documentaries. These are the earliest visual records of the area, according to Xiang Suzhen of the Sichuan Music Conservatory who helped organize the event.
"When we think where we are from, we think it's here," Lutley says.
(China Daily 04/08/2008 page18)