French passion greets torch in Paris
By Hu Yinan
Updated: 2008-04-08 07:33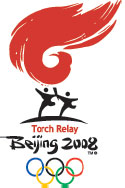 PARIS: The run toward Beijing 2008 continued yesterday - the seventh day into the torch relay - with the Paris leg starting from Eiffel Tower in the hometown of Baron Pierre de Coubertin, founder of the modern Olympics.
Tens of thousands of Parisians swarmed the streets while many waved and cheered, like their ancestors did in 1894 when foot races with torches were organized during an international congress for the restoration of the Olympic movement.
"I'm really, really proud of bearing the torch," former men's world 400-m hurdles champion Stephane Diagana, the city's first torchbearer, told China Daily after his 200-m run along the tower's first viewing platform. "It's so meaningful for me."
Diagana said his understanding of the Olympic values is "sharing, peace and respecting people's differences - the wealth of the world lies in its differences, and I think we all have to bear that in mind. It's not easy, but I think we'll have to progress that way."
Qu Yingpu, spokesman for the torch relay, said that the event started smoothly in Paris but encountered protests by Tibetan separatists during the process.
Due to safety concerns and to safeguard the dignity of the torch, the relay team had to change the relay pattern and put the torch in a bus three times to complete the process smoothly, he said.
Jin Jing, a Chinese torchbearer, said the disruptions by some separatists were an insult to the athletes and undermines the spirit of the Olympics.
"I despise them", said Jin, who carried the torch on a wheelchair.
However, she said she was encouraged when she saw many people, including Chinese students, waving Chinese flags to cheer her along the way.
Paris, home city of the 1900 and 1924 Olympics, failed in all three of its bids in the past two decades - including a heartbreaking close loss to London in the bid for 2012.
The French capital is the fifth city - and the last in Europe - in the global relay, which spans 21 cities outside the Chinese mainland from April 1 to May 3. The torch is scheduled to arrive in San Francisco today.
(China Daily 04/08/2008 page1)