Heart strings
By Chen Nan
Updated: 2008-04-05 07:29
Wearing a simple black sweater and dark blue jeans, Wang Juan strokes her guitar strings and her smooth-sounding voice fills up the tiny studio. The singer songwriter is rehearsing for tonight's important performance at Starlive. It is the first time Beijing-based singer songwriter has played with a full backing band and she wants everything to be all right in the night.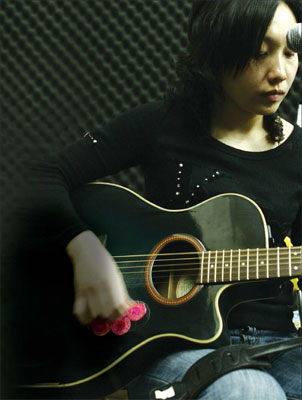 With 10 years of performing experience and two albums under her belt, she has attracted a loyal fan base: not too large to disturb her life nor too small to disappoint her professional ambition.
Among her fans is Cui Jian, China's godfather of rock, who thinks Wang is rare breed of female singer who can make songs independently and without disturbance from the outside.
Following in the spirit of Bob Dylan Beijing's folk music movement led by Wang and others, is changing. And next week's concerts from James Blunt adds more fuel to the fire.
The scene began its march into the mainstream when Campus Folk Songs issued a small CD called Earth in the early 1990s. This compilation featured 20 years of popular songs previously considered to be background music.
Students added acoustic guitars to traditional poetry and a new Chinese sound emerged.
However, the softer and tender musical genre was swept aside by rock and roll rage that dominated Beijing bars through the 1990s.
Wang believes many people have a wrong idea about folk music and the genre is broader than "college campus" songs or "urban folk" tunes. "In my heart, it is instead a broad river that contains many branches," she says. "Folk music is a kind of spirit, very simple, unadorned and intimate, which is as natural and smooth as every breath you take."
"Folk music can be of great variety. It could be rock, electronic and whatever forms as long as the songs have the spirit of folk music. But what is the spirit inside folk music?" she ask before pausing. "It is telling you a story, which is inspiring, touching and deeply felt."
Wang says folk songs reflect life's core and exist everywhere in China - from country lanes to the streets in the city's heart - and even, in the center of Sanlitun, Beijing's expat drinking world, where she started her folk music journey.
"At the beginning, I sang classic English songs of Beatles and Carpenters. Then I learnt to create by myself," she recalls.
The River Bar, on Sanlitun's south bar street, is a popular venue for Wang and other Beijing-based singers such as Wang Xiaoli, Zhou Yunpeng and Xiao He.
Wang mingles with people living life in a modern city and her encounters gave her inspiration to write songs, such as Distance and Problem. She has tried adding electronic sound to her folk rhythms in her album Two's Personal Trip's, which contains beautiful, folk-electronic melodies that produces a dreamy and calming effect. Playing the bars is not a big money spinner so Wang's 10-year journey is fueled by passion.
"Singing in bars is much more relaxing and pure for me," she says. "Nowadays, many people tend to numbly hide their sentiments to live up to a fast-paced life.
"I think if everyone can expose a little bit of their inner selves to touch folk music, the world would be a nicer one."
Wang says tonight's performance with a new band (drummer Meng Da, bassist Sun Ying, acoustic guitarist Liu Tieyi and electric guitarist Xie Lianhao) is exciting development.
"I used to sing alone, just a guitar and my voice. But this time with my band members my music will be different and fresh," she says. "I believe folk music is rising because of its vitality."
China's folk music is diverse and its singers are featuring in more big music festivals in Beijing, such as the annual Midi Music Festival and Beijing Pop Music Festival at Chaoyang Park.
Singer songwriters, such as Wang, still enjoy the intimate surrounds of a small venue and accept the commercial realities of their genre. But they are not waiting around for someone to discover them. Instead, they've built up a fan base the hard way, playing in clubs, bars and traveling the country to music festivals. "If the major labels decide tomorrow that folk music is cool again, it would be good," Wang says.
In 2001, River Bar was established and the best performers Xiao He and Wan Xiaoli recorded a live show in 2002. A few years later Zhou Yunpeng released his album Mazy and Silent Breath and last year singers, such as Wan Xiaoli, Su Yang, Wang Juan and Zhou Yunpeng appeared at almost all music festivals, both big and small. Today, their names are becoming as popular as the mainstream music stars.
Wang Juan and her band Together with play at Starlive tonight at 9pm. 40 yuan. 79 Hepingli Xijie, Yonghegong. Above Tango, southern entrance to Ditan 和平里西街79号3层,6425-5677
(China Daily 04/05/2008 page5)