Rising food prices? Speculators only part of the reason
High food prices around the world? Blame - at least in part - the investors who moved their money into commodities in the past five years, looking for better returns than they were getting from stocks and bonds.
Global investment funds saw the potential for profits in commodities outstripping those from the stock market, and from 2002 started diving into oil, followed by metals and then grains.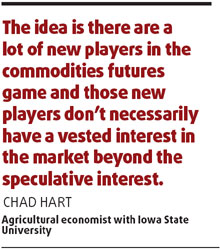 This move was fueled by falling interest rates in major economies, which makes fixed-income investments less attractive, and a weak dollar, which tends to drive up the price of dollar-denominated investments such as most grains.

Today's Top News
Editor's picks
Most Viewed