Bush presses NATO on Ukraine, Georgia, Afghanistan

Updated: 2008-04-03 07:32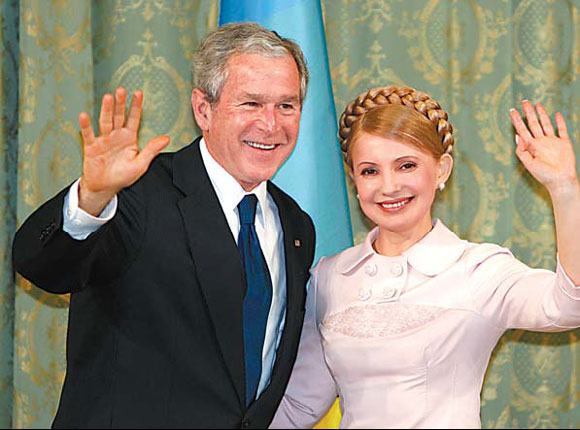 US President George W. Bush and Ukraine's Prime Minister Yulia Tymoshenko wave to reporters during a meeting in Kiev on Tuesday. Reuters
US President George W. Bush set the stage for a clash at his final NATO summit yesterday, by pressing reluctant West European allies to set former Soviet republics Georgia and Ukraine on a path to membership.
He also urged his allies to follow the example of France, Poland and host nation Romania in providing extra troops for NATO's battle against Islamist insurgents in Afghanistan.
"We expect our NATO allies to shoulder the burden necessary to succeed ... It's worth it," Bush said after talks with Romanian President Traian Basescu. He gave no target number.
"If we do not defeat the terrorists in Afghanistan, we will face them on our soil," Bush said earlier in a speech in Bucharest before leaders of the 26-nation defense alliance were to open a three-day summit in the Romanian capital.
He said the West should reward "democratic revolutions" in Ukraine and Georgia by giving both countries the prospect of joining NATO, although Russia has opposed this.
"My country's position is clear - NATO should welcome Georgia and Ukraine into the Membership Action Plan," he said, referring to a program which is a gateway to membership.
France and Germany, backed by several smaller countries, have said Ukraine and Georgia do not meet NATO's criteria and the decision would be an unnecessary provocation to Moscow just before President-elect Dmitry Medvedev takes office.
At stake is whether NATO pushes its European borders right up to the frontiers of Russia, with the exception of Belarus, or leaves a strategic buffer zone as the Kremlin wishes.
NATO Secretary-General Jaap de Hoop Scheffer left the scope, timing and nature of planned expansion vague in a speech to youth leaders from alliance countries.
"I expect the summit will open NATO's doors to several new members from southeast Europe," he said, adding the alliance would also strengthen ties with other states in the Balkans and the Euro-Atlantic area, including Ukraine and Georgia.
Bush sought to soothe Russian anger over what Moscow sees as NATO's attempt to encroach on its sphere of influence, saying the Cold War was over and Russia was not the West's enemy.
NATO decisions require unanimity, so Washington will probably have to settle for a program of closer cooperation with Ukraine and Georgia and at most a commitment to review the issue at next year's 60th anniversary summit.
Agencies
(China Daily 04/03/2008 page12)