Ding's title drought drags on
By Zhao Rui
Updated: 2008-03-28 07:47
China's national treasure Ding Junhui will look to toughen his "fragile nerves" after a 5-4 loss to Shaun Murphy yesterday in the China Open as he looks to the World Championships, the last tournament of the season, in Sheffield next month.
The 20-year-old from Jiangsu province has become a regular force on the Main Tour, but hasn't made it past the quarterfinals yet this season and is in the midst of a 19-month title drought.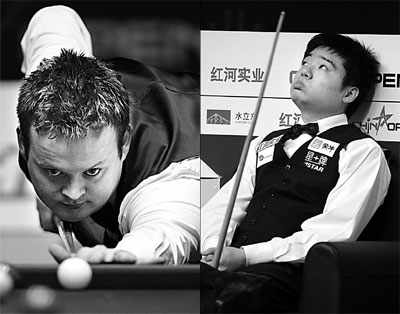 Shaun Murphy (left) competes against China's Ding Junhui during the 2008 Snooker China Open yesterday in Beijing. Murphy defeated Ding in an over-four-hour marathon game 5-4 to enter the quarterfinals. Right: Ding reacts during the game. Yang Shizhong
With a fortnight left before the Worlds begin on April 7, Ding said he would play with confidence and try to cleanse his reputation as someone who loses his nerve.
"No one likes to be considered a mentally weak player," admitted the former China Open winner. "I want to try my best at the World Championships because the title drought gives me a lot of pressure. I know media and fans doubt my consistency, so I have something to prove at the Worlds this time."
Ding narrowly lost to Shaun Murphy 5-4 at the China Open in Beijing yesterday but remains positive about the upcoming Worlds.
"It was a pretty good match for me anyway, though I made some mistakes," Ding said. "I had a lot of chances but he simply played too good, so I didn't win the match. Luck is not on my side tonight, because winning a match always needs luck.
"I will go back to England as soon as possible to make my last preparation for the Worlds."
As one of China's brightest sports star on par with 110-meter world record holder Liu Xiang and NBA All-Star Yao Ming, Ding has elevated snooker, once a street sport in China, into a national and year-long pastime over the last four years.
The 20-year-old was the youngest player ever to win three ranking titles - the China Open and UK Championships in 2005 and the Northern Ireland Trophy in 2006 - and the only player other than John Higgins to do so before his 20th birthday.
Apart from a semifinal finish in the Snooker Premier League, an exhibition tournament with plenty of prize money but no rankings points, Ding has failed to deliver during the longest title draught of his career.
But Ding, who will take part in the Olympic torch relay in Anhui province, said his top priority is to overcome his nerves.
"I have tons of pressure and if I cannot play at a satisfactory level, I simply can't tolerate myself," he said. "I can beat anybody as long as I feel good, so my number one task is to overcome myself, actually."
But Ding's British rivals continue to encourage him to enjoy the sport rather than stressing about his win-loss record.
"Sometimes it's not about winning or losing, it's about enjoying every match you play," said Ronnie O'Sullivan, the world snooker No 5 who lost to Hong Kong's Marco Fu 5-4 on Wednesday. "You need to relax yourself because you are not supposed to play only one or two matches a year, you are supposed to play a number of them, so if you think too much about the result, you will be in trouble.
"I know he is in a tough situation, like no one else, but he has to find a way to enjoy the match, not to suffer from it. It will be very interesting to see how he gets on next season."
Steve Davis, a snooker veteran who has played on the Main Tour for more than two decades, echoed O'Sullivan.
"Ding is more than just anyone," he said. "I won't be surprise if he wins the next tournament, because he could win any match against anybody. He has a little bit of a lack of confidence, but I think if he wins a good match, his confidence will come back.
"He needs a stronger heart. To focus on the table in such an environment is not easy."
New generation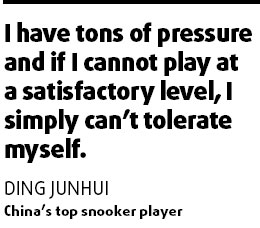 Ding can take comfort in the fact that he has inspired a new generation of Chinese snooker players. Liu Song, Tian Pengfei, Xiao Guodong and Liu Chuang, are all following in Ding's giant steps in England this season. Each of them will make it into the top 96 by the end of the season.
Tian and Liu Song also both squeezed into the 32-player draw from qualifiers at the Worlds, marking the first time four Chinese players appeared in the renowned tournament.
"They take some pressure off me as they give Chinese fans more people to focus on," Ding said. "We live in a house in England and compete in the same tournaments. That makes me feel very comfortable."
In yesterday's matches, John Higgins delivered a 5-1 win over Mark King to book his place in the quarterfinals.
The Scot hopes to add to his single ranking title in Asia and to play his best as he defends his world title.
"I would love to win this tournament as I've only ever won one in the Far East, which is not a good record," said Higgins, who won the China International in 1999. "To win would give me confidence going into Sheffield that I can defend my world title and play some good snooker.
"I got some confidence from making a good break in the last frame. Today I gave Mark some chances and he didn't take them. My next opponent is sure to take them so I will have to play better."
Stephen Maguire joined Higgins in the last eight with a comfortable 5-2 win over Barry Hawkins.
Maguire lost the first frame but hit back to win five of the next six with top runs of 71, 85 and 75.
(China Daily 03/28/2008 page23)