World leaders voice support for China's handling of riots

Updated: 2008-03-27 07:19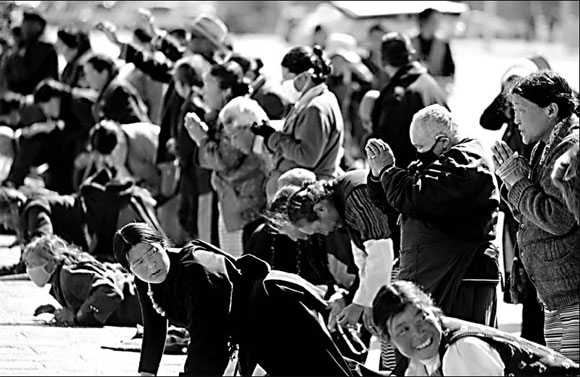 Tibetan Buddhists pray in front of the Potala Palace yesterday in Lhasa. The palace reopened yesterday, as life returns to normal in the city following the recent unrest. China News Service
The leaders of several political parties and high-ranking government officials around the world have voiced their support for the Chinese government's handling of the riots in Lhasa, Tibet.
Gennady Zyuganov, president of the Communist Party of the Russian Federation, said in a statement the incidents in Tibet were planned attempts to undermine China's social and political stability, and its territorial integrity.
He said the Russian Communist Party stands firmly for the measures taken by the Chinese Communist Party (CPC) and Chinese leaders in dealing with the illegal acts.
Renalto Rabelo, chairman of the Communist Party of Brazil, said in a message to the Central Committee of the CPC that his party supports China in its handling of the Lhasa riots and opposes in strong terms the provocative actions by the separatists.
Tolofuaivalelei Falemoe Leiataua, speaker of the legislative assembly of Samoa, said the Tibet issue is China's internal affair, and foreign governments have no right to interfere, nor should its leaders meet the Dalai Lama.
Youssef Amin Wali, a member of Egypt's ruling National Democratic Party and chairman of the Egypt-China Friendship Association, said Egypt sides with the Chinese government in its efforts to maintain stability and security in Tibet.
In a statement, Mauritania's National Union for Democracy and Development condemned the violence in Tibet, saying it was aimed at undermining China's territorial integrity.
Fiji's interim government said in a message it supports China's actions to put down the riots in Lhasa.
Iraq condemns the violence in Tibet and the Iraqi government firmly supports efforts by the Chinese Communist Party, government and people to restore stability, Iraqi President Jalal Talabani said in a message conveyed by Mohammed Ismail, the country's ambassador to Beijing.
Abdallah Alafranji, member of the Central Committee and minister of external affairs of the Palestine National Liberation Movement (Fatah), said Fatah is greatly concerned about the violence in Tibet and supports the Chinese Communist Party and government's handling of the incident.
The Communist Party of India (Marxist) and the Communist Party of India said the Indian government should not interfere in the Tibet issue, which is China's affair.
Xinhua
(China Daily 03/27/2008 page5)