China Scene: West

Updated: 2008-02-26 07:26
Disability proves no barrier for skilled paper cutter
Li Guochang, a 46-year-old disabled man in Xi'an, capital of Shaanxi province, has developed special skills of the traditional practice of paper cutting.
Paper cutting includes graphics or words, but Li, after 40 years of intensive studying, can imbue his works with sophisticated poetry and matching pictures.
"I started to learn paper cutting when I was five years old after poliomyelitis affected my mobility. I plan to make paper cutting works 208 m long and with the 2008 characters to celebrate the Beijing Olympic Games," Li said.
(Sanqin Daily)
Philatelist takes butterfly love to new heights
Xi'an resident Shou Jianxin in the capital of Shaanxi province has, in the past four decades, collected more than 10,000 pieces of butterfly stamps from more than 100 countries.
"I started to collect butterfly stamps when I got one from my mother at fivve and I published a book entitled The World's Butterfly Stamps in 2005, which shows my collections," the 60-year-old said.
(Sanqin Daily)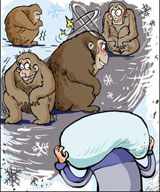 Workers, farmers toil to save animals
More than 300 forest workers and farmers recently carried about 30 tons of food on their backs to feed wild animals in Nanjiang county, Sichuan province.
Because of the recent snowstorms, food for the animals was in short supply. Some were in danger of starving to death.
The county's forest bureau workers and farmers collected 10 tons of rice and corn, 20 tons of potatoes as well as straw for the animals.
Because of the snowblocked roads, the food was carried on the backs of the workers and farmers.
(West China Metropolis Daily)
Student helps out poor pupils in Tibet
Chen Shufen, a postgraduate student at Zhongshan University in Guangzhou, capital of South Guangdong province, has collected 160,000 yuan ($22,000) for schoolchildren in Tibet.
Chen comes from a poor farmer's family and earned her college fees while studying at university.
In 2006 Chen went to Tibet to work as a teacher at a primary school during the summer vacation and on returning to university decided to launch a donation drive to help out her poor pupils in Tibet.
(Yangcheng Evening News)
Mallards party with swans in Urumqi zoo
More than 1,000 migrating mallards have found a happy pit stop in the zoo of Urumqi, capital of the Xinjiang Uygur autonomous region.
Zoo staff said the wild ducks, which head south during winter, stayed at the swan lake during their stopover.
"They played with 16 swans we kept in the lake and enjoyed the food we provided," the workers said.
(www.chinanews.com)
Embezzling salesman gets jail sentence
Tang Junfeng, a former lottery salesman in Yinchuan, capital of Ningxia Hui autonomous region, was sentenced to 10 years' jail on Wednesday for embezzlement of public funds.
In April and May 2006, Tang put 350,000 yuan ($48,999) from the sale of lottery tickets into his private account.
In the past month, Tang has returned about 100,000 yuan and has promised to repay the balance.
(New Information Daily)
(China Daily 02/26/2008 page6)