Pretty boy no more
By Chen Nan
Updated: 2008-02-23 07:54
Lu Yi is in a frivolous mood. The actor repeats the Spring Festival holiday greeting, "Guo Nian Hao", three times, then peppers our phone conversation with frequent laughter.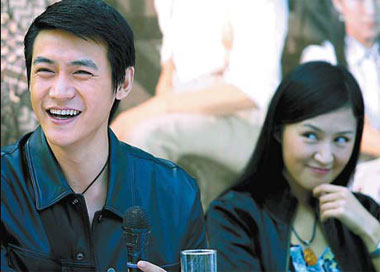 Lu Yi and his wife Bao Lei. Wu Huang
"I am heading to the airport in an hour to meet my family in Shanghai," Lu says joyfully. "I have been non-stop working for 17 months - TV series, film, some ads and new photos. Now I can take a break." His voice betrays jubilance at the coming holiday, as well as the fatigue of the past months.
As an actor, Lu is now in a fortunate position, able to take time off without fear of damaging his career. He has put in the hard yards since starting in show business as a child, and is finally able to savor the thing that to him matters more than fame -- family.
"I expected to work as a drama actor in Shanghai without too much fame but with self-achievement. Then I would have a family, a beautiful wife and a lovely child. That's it," Lu says. "That was what I saw from my parent's life, quiet, simple but happy."
Lu was cast in his first film role at the tender age of five. Ten years ago, a role as a lost boy struggling with drug addiction in the TV drama, Never Close the Eye, saw the then 20-year-old leap from fourth-year student at Shanghai Drama Academy to national stardom.
Seemingly overnight, Lu was everywhere: wining Best Actor and Most Popular Actor awards in the annual TV Golden Eagle Awards, his name inscribed at the very top of the A-list of promising young Chinese actors. Yet the triumph was bittersweet for Lu, who says he yearned for a simple and regular life, just like his parents.
"The success was overwhelming and sudden. I could not believe it let alone figure out what to do next," he recalls.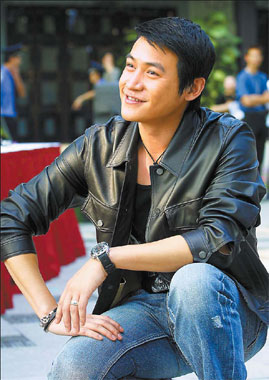 His following works strengthened his position and enabled him to stand out from other young actors. But those roles also tended to reinforce his image as a heartthrob, which categorized and also limited Lu's acting.
"It was good that people recognized my acting even though I was still a student then, but it was bad as well that I could not jump out of the box. I was confused," he says. Then, with a few more TV series and films to his name, Lu made the decision to stop working for a while. He enjoyed time with his family and friends, watching on as others started to rise under the glare he once occupied.
"I know exposure under the spotlight is quite necessary for an actor, but I grew up with the past glories and I know family is much more important for me now," Lu says. "I quite like the stop or escape."
Lu seems to have reached that point, both professionally and personally, where escape is necessary.
He has ensured the exposure he concedes necessary, through transformative turns in the recent historic TV series as Su Dongpo, one of the most famous writers in China's Tang and Song dynasties and in Chinese literature giant Ba Jin's novel-adapted TV series Family.
What has changed, Lu says, are the roles he is now taking on. "Handsome boys with sunny smiles no longer fit me. I am looking for something new and different. The difference, and I'm starting to feel it just now, is more to do with deeper side of the characters, which are much more suitable for my age. I can feel the pressure in terms of the roles but I welcome the challenge and the opinion from the audiences."
Lu is philosophical about the process: "It's not a bad thing or necessarily a good thing or, indeed, an enjoyable thing. I'll just go with the wave."
2008 will see him take on another new challenge with his first thriller, the film Anna & Anna, co-starring Hong Kong actress Karena Lam.
"The role is quite reserved and silent. He has to cope with the relationship with one woman who has double duty. Much of my acting is through eyes and body language which is new for me," Lu says.
Lu has cooperated with many famed directors, like Hou Yong in Jasmine Women (costarring Zhang Ziyi) and Hark Tsui in Seven Swords (costarring Donnie Yen). But he has never planned to expand his career overseas.
"I don't want to go to Hollywood because I don't know how to handle the way of working with foreign directors and actors. They are totally different from us," he says. "I just want to stay here unless there are foreign directors who set their stories in China."
Lu's personal life, too, has been subjected to the scrutiny that goes with his chosen profession. His fairytale romance with the girl he met twelve years ago at their university registration delighted the paparazzi. The couple strolled hand-in-hand at fashion galas and various events. In 2006, during his one-year hiatus from the screen, Lu married his university sweetheart Bao Lei, with whom he fell in love at first sight.
(China Daily 02/23/2008 page8)