Gunmen hold 34 hostage in Venezuela

Updated: 2008-01-30 07:25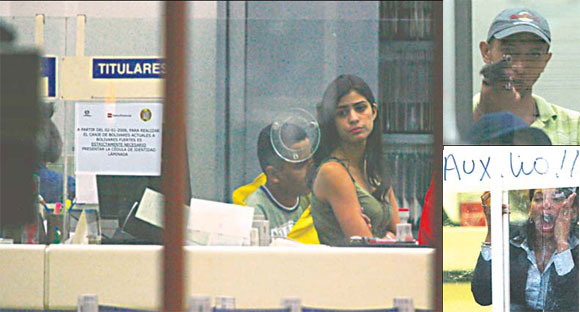 Left: A hostage stands inside a bank in Altagracia de Orituco in the central state of Guarico, some 350km south from Caracas, yesterday. Top right: A robber holds a gun inside the bank. Bottom right: A hostage shouts as she holds a sign in the bank. Reuters
Gunmen held more than 30 people hostage inside a Venezuelan bank yesterday during a lengthy and tense standoff with police that began with a botched robbery.
A 2-week-old infant, a 10-year-old boy and a woman who is eight months pregnant were among about 34 hostages inside the bank in the town of Altagracia de Orituco, bank executive Leon Enrique Cottin told the Venezuelan television station Globovision, urging the hostage-takers to give themselves up.
"We're doing everything possible to preserve the lives of the people," Cottin said. "But negotiations haven't been possible with the criminals who are inside."
In a message to the hostage-takers, he said: "Everyone be calm, be conscious that it's very different to face a trial for kidnapping and for homicide."
Police were trying to negotiate with the gunmen by cell phone, said General Antonio Rivero, head of Venezuela's emergency management agency, and emergency teams waited outside to help hostages and their families.
Rivero said that no one had been hurt.
The hostage standoff began Monday morning in the town in central Guarico state, southeast of Caracas. Shortly after four gunmen entered a branch of Banco Provincial, a uniformed police officer pulled up to use the cash machine and surprised the four would-be robbers, said Amanda Saldivia, a reporter for the local Guarana Radio FM.
Six captives made it out of the bank in the hours that followed - several who were released and at least two who fled. Saldivia said one was a security guard who ran out as the gunmen shot at him but missed. Cottin said the other was a teller.
During the night the gunmen accepted a package with diapers and a bottle for a baby among the hostages, Saldivia said.
"The information we have from some family members outside who've had contact by telephone message,is that the situation is tense," Cottin said, though he also said bank employees inside were calm.
"There was a problem with hunger and thirst, and we've asked the authorities to deal with that," Cottin said,
Saldivia said crowds of onlookers, including hostages' relatives, gathered outside the bank, along with several dozen police who cordoned off the area.
Gunmen's demand rejected
The gunmen were demanding an ambulance to ferry them away along with several hostages, a demand that authorities did not grant, Saldivia said. Some of the hostages held up signs at the windows of the building calling for help and asking for the authorities to provide the ambulance and re-establish water service that had been shut off.
Paramedics waited outside and Rivero said officials were "sending a mobile operating room to strengthen the capacity of medical care." Rivero said there were thought to be three or four children inside, though the bank executive mentioned two.
Security cameras captured images of the gunmen until the cameras went dead - apparently cut off by the men - and the footage was turned over to authorities, said Cottin, the Venezuela president of Spain's Bilbao Vizcaya Argentaria, or BBVA, which owns Banco Provincial.
Cottin said the hostages are thought to include six bank employees and the remainder are customers.
Guarico state's governor, Eduardo Manuitt, called for calm "so that there is no aggression and the hostages are rescued alive."
As for the gunmen, Manuitt told state television: "We think they don't have much experience because of the sort of weapons they carry and by their behavior." He said authorities are working to identify them from images taken and believe they are connected to a criminal gang in the area.
"We are in real danger. They can kill us. Please help," read a placard placed at one of the branch's windows.
Robbers won't give up
A woman captive, who received some food at the bank's door for those inside, screamed out that the hostage-takers would not give up after they seized people early on Monday during a botched robbery.
Negotiators said that after 24 hours under siege from security forces deployed across the street from the bank, the assailants rejected an offer to give themselves up in front of TV cameras with a guarantee no shots would be fired.
Hostages' relatives, who received text messages from inside pleading for a peaceful end, sang the national anthem and yelled for the police to grant the demand.
The siege in the OPEC nation highlighted the scourge of crime in a country with very high rates for gun-related deaths.
With crime hurting his popularity, President Hugo Chavez has vowed to tackle the problem, warning his political allies that voters could back the opposition in elections this year if the government fails to make headway.
State media largely ignored the standoff while others gave regular, detailed updates of the drama.
Hostages periodically appeared at windows, apparently wanting to show their loved ones they were unharmed. One called a regional radio station and said their captors were treating them well, according to a local blog www.orituco.com.
Helicopters clattered overhead. Police, with their rifles pointed at the ground, trained their eyes on the bank in silence.
Agencies
(China Daily 01/30/2008 page12)