Me, you and Ourselves
Ourselves Beside Me is the second generation of an all-girl rock force that stormed on to the Chinese music scene as teenagers, 15 years ago. Then, the band was called, Hang on The Box, comprising four members known for the slightly hysterical edge to their vocals, mixed with an industrial vibe.
The band members' musical journeys did not end when Hang On The Box broke up, instead morphing into the three-member Ourselves Beside Me. They perform this Saturday at D22 near Wudaokou.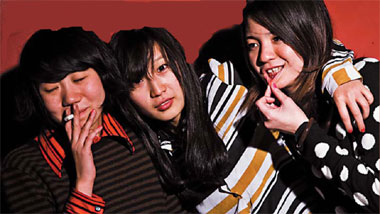 Since forming, the trio has broken all of the stereotypes associated with the group, and is heading into stronger garage/indie territory.
Their tight and extremely engaging stage performances have gained applause no less than the previous generation and helped them to build a solid fan base in a short time. Like Hang On The Box, they play a diverse range of music. They have grabbed Beijing by the ears and refuse to let go.
Following the demise of the first band, drummer Shen Jing pursued further music study in the UK, while former vocalist Wang Yue and former bass player Yilina pursued fashion design and worked as DJs. Hang on The Box's ex-bassist Yang Fan came up with the idea of continuing the band's rock tone in the way of forming an new all-girl rock band. The name came from the title of a song from Hang On The Box's fourth and also last studio effort No More Nice Girls, which wrapped up the band's nine-year long history. In the song, the steady marching drum and bass set off the frosty female vocals.
As the name of the new band, it is also a little bittersweet, because it reminds listeners of their break-up. The four girls who started performing as a band at just 15 years old brought a fresh breath to the contemporary Chinese music scene.
Shake Hands With Danger, a new musical force formed by four Beijing expats, will open. Comprised of musicians from different parts of the globe, Shake Hands With Danger have already won fans with their live shows. There are two big guitars, keyboards for bass and thumping drums.
Chen Nan
On January 26, 9pm. At D22. 242 Chengfu Lu, half-way between Wudaokou Subway Station and Peking University East Gate成府路242号, 五道口地铁与北大东门之间 6265-3177
(China Daily 01/26/2008 page6)
Today's Top News
Editor's picks
Most Viewed