Troubled Citigroup posts worst loss in 196 years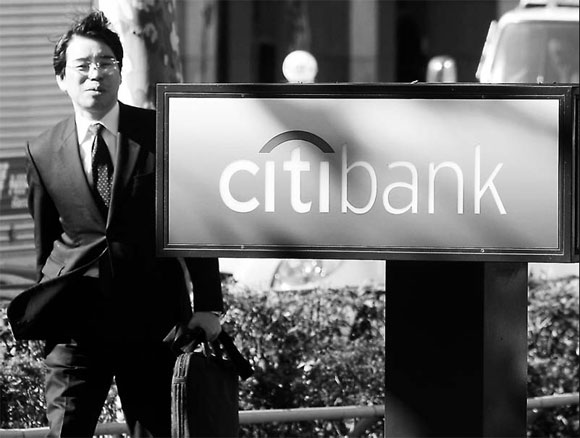 A businessman walks past a Citibank Japan Ltd branch in Tokyo. Bloomberg News
Citigroup Inc posted the biggest loss in the US bank's 196-year history as surging defaults on home loans forced it to write down the value of subprime mortgage investments by $18 billion.
The fourth-quarter net loss of $9.83 billion, or $1.99 a share, compared with a profit of $5.1 billion, or $1.03, a year earlier, the biggest US bank said yesterday in a statement. New York-based Citigroup also cut its dividend by 41 percent, announced 4,200 job cuts and said it will receive $14.5 billion from outside investors to shore up depleted capital.
"Our financial results are clearly unacceptable," Chief Executive Officer Vikram Pandit, who was installed in December after Charles Prince stepped down amid mounting subprime losses, said in the statement. "We are taking actions to enhance our risk-management processes and to improve expense productivity."
Citigroup racked up record losses as it misjudged the depth of the mortgage crisis. The writedown for subprime home loans and related securities was almost double what the company expected as recently as November. The bank also said it set aside $4.1 billion more in the fourth quarter of 2007 to cover loan losses.
Citigroup's markdown is the biggest so far, exceeding the $14 billion reported by Zurich-based UBS AG, Europe's biggest bank.
"Things are still bad out there for financials, and there's more bad news to come," said Jon Fisher, who helps oversee $22 billion at Minneapolis-based Fifth Third Asset Management. "The balance sheet is a mess, they've got to raise capital, and the charges keep going up every day."
The net loss exceeded analysts' estimates of 97 cents a share, according to a survey by Bloomberg. Citigroup has slumped 47 percent in New York Stock Exchange composite trading during the past year. The shares rose to $29.50 in early trading from $29.06 at the close on the New York Stock Exchange on Monday.
Bank of America Corp, which may report an 80 percent drop in fourth-quarter net income next week, fell 27 percent in the past 12 months and JPMorgan Chase & Co, which may post a 31 percent decline in earnings today, lost 14 percent of market value.
Founded in 1812 as the City Bank of New York, Citigroup cut the quarterly dividend to 32 cents a share from 54 cents. The reduction, the first since the merger of Citicorp and Travelers Group Inc in 1998, will help save the company about $4.4 billion annually. The company said as recently as November that it had no plans to lower the payout to shareholders.
Citigroup also had to turn to outside investors for fresh capital for the second time in two months. The bank said it raised $6.88 billion by selling convertible preferred shares to an investment fund controlled by the government of Singapore. Similar shares were sold to Capital Research Global Investors, Capital World Investors, the Kuwait Investment Authority, the New Jersey Division of Investment, Saudi Prince Alwaleed bin Talal and former Citigroup CEO Sanford I. Weill.
In November, the bank got a $7.5 billion injection from the ruling family of the Middle Eastern emirate Abu Dhabi. Alwaleed, the 52-year-old billionaire, already owns 4 percent of the company.
He has been Citigroup's biggest individual shareholder since the early 1990s, when soured investments in commercial real estate left corporate predecessor Citicorp short of funds.
Agencies
(China Daily 01/16/2008 page17)
Today's Top News
Editor's picks
Most Viewed