Agreement reached on Eurasian rail links
By Xin Dingding
Updated: 2008-01-10 07:10
Railway authorities from six countries yesterday signed a memorandum on expanding cooperation on railway transport that is expected to boost trade and cargo flows between Asia and Europe.
The six countries - China, Mongolia, Russia, Belarus, Poland and Germany - agreed to create conditions that will pave the way for a regular container train service between Asia and Europe.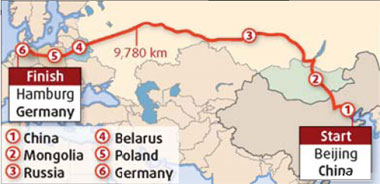 They agreed to collaborate on customs and border patrols to simplify transit procedures and minimize the time needed for container trains to cross borders.
The gathering marks the first time the governments of the six countries have reached a consensus on the route, insiders said.
Yesterday, a demonstration container train carrying a load of Chinese goods rolled out of one of the logistics bases of China Railway Container Transport Corp Ltd in Dahongmen, Beijing, to mark the occasion.
The train is expected to cover a distance of 9,780 km in 18 days, before arriving in Hamburg, Germany.
The goods on board include electrical appliances, clothes, shoes and ceramic tiles, Zheng Mingli, chairman and president of China Railway Container Transport, said.
After the train finishes its journey, officials from the railway departments of the six countries will analyze the route with an eye towards improving operations.
"The goal is to open a scheduled railway container service between the six countries," Zheng said.
"Barring any complications, a scheduled container train should be shuttling between China and Germany in a year's time."
Issues such as how much the service should cost and how to organize and balance the sourcing of goods remain unsettled.
The Eurasian continental corridor is considered a favorable choice for cargo transport between the two continents because it takes less time than shipping by sea.
Shipping goods from Asia to Europe means passing through the Indian Ocean, which adds an additional 10,000 km to the journey.
It takes at least 40 days to ship goods from China to Germany, more than double the time it takes to send a train through the Eurasian corridor.
However, countries along the corridor have different types of rail tracks and various customs and border checking regulations, which has hampered the route's viability. It also costs more to carry goods by rail than by ship.
China's Ministry of Railways has been working to remove these obstacles and promote cooperation in the hope of reducing the cost of shipping goods by rail.
(China Daily 01/10/2008 page3)